Cardiology MCQs from Cardiophile MD, Volumes 1, 2 & 3 (Kindle and Paperback Editions) on Amazon
Multiple choice questions in Cardiology with answers and explanations. Journal references have been added when appropriate. The book is meant for those preparing for competitive examinations in Cardiology, typically for entrance to Fellowship Programs. Each volume has 10 chapters of 20 questions each. For volumes 1 and 3, chapter numbers with suffix 'A' gives the answers for the corresponding chapters. Some of the questions have images associated like ECG, Chest X-ray, Echocardiogram and Cardiac Computed Tomogram. The book aims at enhancing the knowledge and not just answering MCQs, hence the detailed explanation and discussion for most questions.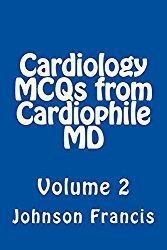 Kindle editions of volume 1 and 3 are interactive. Links at the end of the question take you directly to the answer and the link at the end of the answer takes you back to the question. This makes navigation from questions to answers and back easy.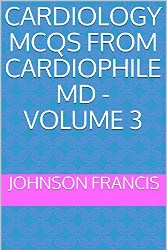 About the author:
Prof. Dr. Johnson Francis, Senior Consultant Interventional Cardiologist, Baby Memorial Hospital, Kozhikode & Former Professor of Cardiology, Government Medical College, Kozhikode, Kerala, India. Editorial Board member of Europace and American Journal of Cardiology. Founder & Emeritus Editor, Indian Pacing and Electrophysiology Journal. Co-editor of 8th Edition of Leo Schamroth – An Introduction to Electrocardiography.
Also by same author on Amazon: