Dye found in the top swab in a three swab test is indicative of?
A. Uretero-vaginal fistula
B. Vesico-vaginal fistula
C. Urethro-vaginal fistula
D. Rectovaginal fistula
Correct answer : A. Ureterovaginal fistula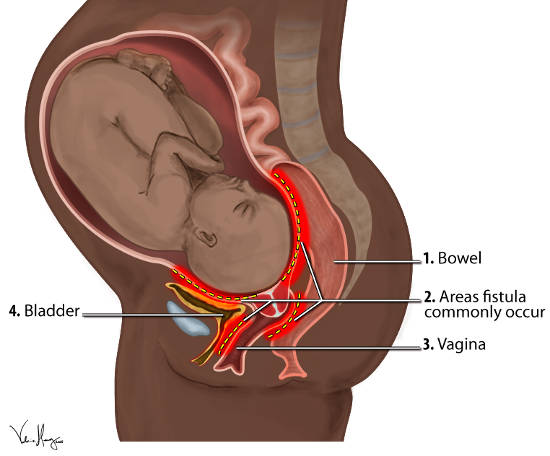 Common locations of obstetric fistula
Three swab test
Three swab test is used to differentiate between ureterovaginal fistula, vesicovaginal fistula and urethrovaginal fistula.
Three cotton swabs are placed in the vagina – at the vault, in the middle and just above the introitus.
Methylene blue is introduced into the bladder using a rubber catheter.
The patient is then asked to walk about for 5 minutes.
The swabs are then retrieved for inspection.
Interpretation of three swab test
Top swab soaked in urine, unstained – Uretero-vaginal fistula
Middle swab stained with dye – Vesico-vaginal fistula
Bottom swab stained with dye – Urethro-vaginal fistula
Image credits: Author: VHenryArt. Licensed under the Creative Commons Attribution-Share Alike 4.0 International license. http://en.wikipedia.org/wiki/File:Obstetric_Fistula_Locations_Diagram.png