All are true regarding leflunomide except?
A. Inhibits proliferation of stimulated lymphocytes
B. Depresses antibody production by B lymphocytes
C. Can be used in children
D. Can cause thrombocytopenia
Correct answer : C. Can be used in children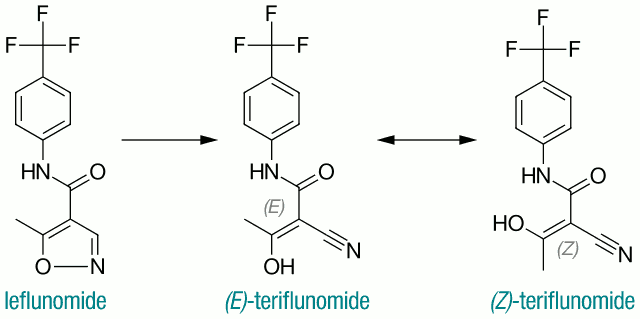 Conversion of leflunomide into its active metabolite
Leflunomide is an immunomodulator.
It is used in patients with active rheumatoid arthritis.
It inhibits proliferation of stimulated lymphocytes.
The active metabolite of leflunomide inhibits dihydroorotate dehydrogenase and pyrimidine synthesis.
It can depress the antibody production by B cells.
It should not be used in children and pregnant / lactating women.
Ref: Essentials of Medical Pharmacology, K D Tripathi, 7th ed, p212.
Image credits:  Vaccinationist.  https://en.wikipedia.org/wiki/File:Activation_of_leflunomide.svg