Least common cause of ambiguous genitalia in females?
A. 21 hydroxylase deficiency
B. 11 hydroxylase deficiency
C. WNT4 gene mutation
D. Foetal placental steroid sulfatase deficiency
Correct answer : D. Placental steroid sulfatase deficiency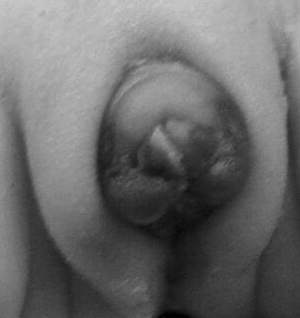 Ambiguous genitalia of a preterm infant, showing clitoromegaly and hyperpigmentation.
Foetal placental steroid sulfatase deficiency is a rare X-linked condition, and is seen only in males.
It is not a cause for development of ambiguous genitalia in females.
The most common cause of ambiguous genitalia in females is Congenital Adrenal Hyperplasia (CAH).
It is responsible for about 70% of cases.
21 hydroxylase deficiency  and 11 hydroxylase deficiency are subtypes of CAH.
Other causes include WNT4 mutation and foetal placental aromatase deficiency.
Image credits: Diabetic fetopathy associated with bilateral adrenal hyperplasia and ambiguous genitalia: a case report. Journal of Medical Case Reports. 2008; 2 : 251. doi:10.1186/1752-1947-2-251