Which of the following is true regarding Maraviroc?
A. Not active orally
B. Bind to transmembrane glycoprotein
C. Targets the CXCR4 receptor
D. Impairs immune surveillance
Correct answer : D. Impairs immune surveillance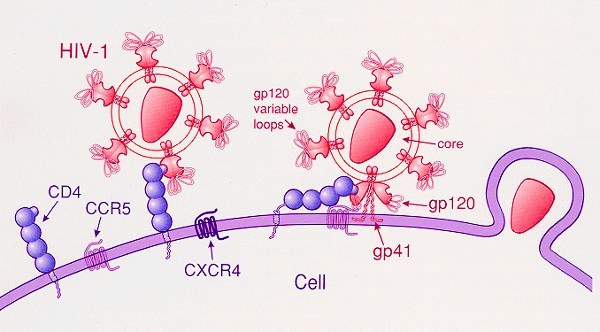 HIV virus attachment process. 1 – gp120 attaches to CD4+ receptor. 2 – gp120 variable loop attaches to co-receptor (CCR5 or CXCR4), gp41 fixation to the cell membrane. 3 – HIV virion enters the cell.
Maraviroc is a CCR5 receptor inhibitor.
It interferes with the attachment of HIV virus to the host cell.
It has no effect on the strains of HIV which are tropic for CXCR4 receptor.
It is given orally.
Impaired immune surveillance can result due to blocking of human chemokine receptor CCR5.
Ref: Essentials of Medical Pharmacology, K D Tripathi, 7th ed, p811.
Image credits: US National Institutes of Health. https://en.wikipedia.org/wiki/File:HIV_attachment.gif (edited)