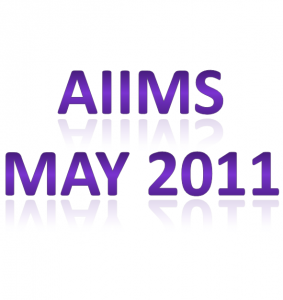 Entrance examination for admission to All India Institute of Medical Sciences (AIIMS) Post Graduate courses – July 2011 session will be conducted on 8th May 2011
You can apply online at www.aiimsexams.org from 28th March 2011 to 15th April 2011
Since the exam is fast approaching, we have created a facebook page for discussing the important questions and topics
Previously asked questions should form an important part of our preparation
Recent advances in medicine should also be looked into
After the exam is over, we can recollect the questions asked and discuss the answers!
Want to know the secrets of toppers? Read what Dr.Jineesh V, the topper of AIIMS PG entrance November 2010 has to share with us!