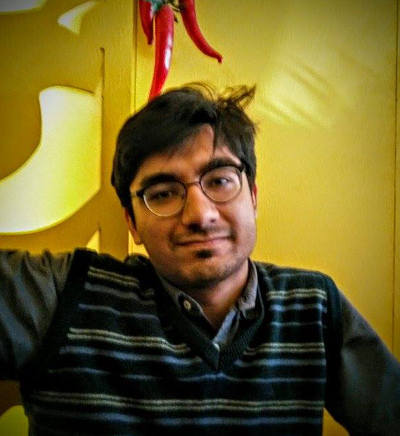 AIIMS PG entrance topper – Dr. Kartik Gupta
PG Blazer: Congratulations on securing a top rank in the AIIMS PG entrance exam! What is the secret of your success?
Dr. Kartik Gupta: Diligence and support of my family and friends.
PG Blazer: Could you tell us something about yourself?
Dr. Kartik Gupta: I am from Delhi. I did my schooling at Hans Raj Model School. I attended medical school at the All India Institute of Medical Sciences, New Delhi where I am currently doing internship.
PG Blazer: Who or what influenced you to take up Medicine as a career?
Dr. Kartik Gupta: 21st century is the renaissance period for medical sciences. We are continuously discovering new treatment modalities and causes of hitherto unknown diseases. Therefore it demands that we constantly keep evolving ourselves and be updated. This daily learning is very important for me as it keeps me occupied and gives me a sense of purpose.
PG Blazer: What were your aggregate percentage marks for MBBS?
Dr. Kartik Gupta: 73.65%
PG Blazer: How did you prepare during your internship period?
Dr. Kartik Gupta: I started serious preparation from April. January to March I was collecting material and talking to my seniors about the various approaches as I couldn't take time off for serious study during that period. I started with my weak subjects or the ones that I feared the most. Revised theory first followed by only previous year MCQ's. I stuck to what I read and kept revising it multiple times. It is important to prepare notes. Funda is to be able to revise all the 19 subjects in last 5 days, which can only happen if at the end you have approx. 75 pages of notes of each subject on an average.
PG Blazer: Which were the various entrance exams you wrote in this session? What were the ranks you obtained?
Dr. Kartik Gupta: I wrote only AIIMS PG entrance. Got rank 7.
PG Blazer: What ranks did you obtain in your previous attempts? (If applicable)
Dr. Kartik Gupta: This was my first attempt.
PG Blazer: When did you start serious preparation for this year's entrance exam?
Dr. Kartik Gupta: I started preparing from 6th semester but if you are talking about PG entrance per se then April, 2015.
PG Blazer: What was your study strategy?
Dr. Kartik Gupta: I had prepared notes from the standard textbooks and coaching material during my 6-9th semester, for at least the minor clinical subjects. I concentrated on textbooks. But that does not work for all subjects. For example in anatomy, biochemistry you can't read it all. For that I analysed the previous years and read the relevant part from books. It is my advise that if you have time, read from standard books rather than refreshers.
PG Blazer: Did you make any notes for helping with your revision? Were they useful?
Dr. Kartik Gupta: My notes are my lifeline. I kept adding points that I came across in mock tests or T&D's. No textbook can ever be complete.
PG Blazer: In your opinion, how much time does a student require for preparing for this exam?
Dr. Kartik Gupta: 6 months if you have read comprehensively during MBBS. 1 year maybe if you have not.
PG Blazer: How many hours did you study each day?
Dr. Kartik Gupta: That is not something I calculated ever. Varies according to the daily schedule of internship. On an average maybe 4-5 hours daily and in the last 3 months around 8-10 hours. Quality and not quantity is important.
PG Blazer: Did you have a timetable for preparation? Were you able to stick to it?
Dr. Kartik Gupta: Yes. Always. Timetable should have a little flexibility and should be realistic.
PG Blazer: What role did the internet play in your preparation?
Dr. Kartik Gupta: I used to give mock tests online, glanced through posts at various forums. It gave an idea about the current trends. But internet is a double edged sword. It requires focus to reap it's useful benefits.
PG Blazer: Did you ever doubt your ability to get selected in this entrance exam? If so, how did you overcome your fears?
Dr. Kartik Gupta: There was not a single day when I did not doubt my selection. Although I was scoring pretty well in mocks and was satisfied with my level of preparation, yet there was always this fear of leaving AIIMS and doing PG somewhere else. AIIMS PG entrance is a different ball game altogether. You got to put common sense and your knowledge that you have build over the last couple of years in those 3 hours. It is a bit unfair I think but that is how it is for everyone.
My family and my colleagues at AIIMS helped me boost my morale. Without my support group I don't think I would have been able to achieve this.
PG Blazer: Did you attend any classroom coaching? Was it useful? Do you think classroom coaching is essential for getting a good rank?
Dr. Kartik Gupta: Yes I did. It was useful since I got good notes that I could build upon. It gave me an idea of what PG entrance is all about, what is trending and how to predict questions.
Classroom coaching played a very important role in my preparation. As to whether it is essential or not, I can't say. I have seen people pull it off without it and not all who attend get through. It all depends on you how you are able to extract the maximum out of it.
PG Blazer: Did you attend any test series? If so, did you find it useful?
Dr. Kartik Gupta: I did. It kept me on track and helped me focus on the relevant stuff since I got limited time to prepare for a subject.
PG Blazer: What were the subjects you focused upon?
Dr. Kartik Gupta: Medicine, derma, psychiatry and paediatrics in 6-7th semester. Surgery , PSM and obs& gynae in 8th semester. Clinical minors ENT, Optha, Ortho, anesthesia in 9th. In internship I realized that my minors are weak and these are the subjects that decide your rank. So I devoted maximum time to these. A solid foundation of medicine is essential for selection. For AIIMS, MOP3 ie Microbiology esp parasitology, ophthalmology, PSM, Pharmacology and Pathology are most important
PG Blazer: Which books did you read for theory?
Dr. Kartik Gupta: Anatomy – Gray's students and BDC
Physiology – Ganong
Biochemistry – Harper
Pathology –Robbins
Microbiology –Baweja
Pharmacology –KDT and GRG
Forensic Medicine – Sumit Seth and Reddy synopsis
ENT –Dhingra
Ophthalmology –Khurana and Ruchi Rai
SPM –Park
Medicine –Harrison
Surgery – Bailey & Love
Orthopaedics – Apoorv Mehra
Paediatrics – Ghai
OBG – JB Sharma for obstetrics and Shaw's for gynae
Anaesthesia – IAMS module by Ajay Yadav
Radiology – Dr. Sumer Sethi's book
Dermatology – Neena Khanna
Psychiatry – Niraj Ahuja
PG Blazer: What was your approach to Harrison's Principles of Internal Medicine?
Dr. Kartik Gupta: Worked up a patient in ward or OPD, came back and read relevant chapter in Harrison. That is what I did in 6-7th semester during clinical posting. For my final professionals I read a few chapters in addition. While reading Harrison, highlight and mark judiciously. You must revise Harrison and that should be your reference for every question. Keep coming back and revise the highlighted stuff.
PG Blazer: Which books did you read for MCQ's? Which ones were the most useful?
Dr. Kartik Gupta: I bought across but could never read it beyond a few pages. There is so much written that you can't separate wheat from husk. At least for AIIMS PG entrance, previous years from any book like Pritesh Singh or Amit Ashish will do. Do JIPMER previous years as the quality of questions and recall is very good. JIPMER review by Arun Babu is what I solved.
Subject wise books:
Anatomy – T &D
Physiology – T&D
Biochemistry – Step 1 USMLE
Pathology – Robbins
Microbiology – T&D
Pharmacology – GRG
Forensic Medicine – Sumit Seth
ENT – T&D
Ophthalmology – Ruchi Rai
SPM – Vivek Jain
Medicine – T&D
Surgery – T&D
Orthopaedics – Apoorv Mehra
Paediatrics – T&D
OBG – T&D
Anaesthesia – Ajay Yadav
Radiology – Sumer Sethi
Dermatology – T&D
Psychiatry – T&D
PG Blazer: Is there anything specific to keep in mind while preparing for AIIMS?
Dr. Kartik Gupta: AIIMS is all about concepts applied on a background of common sense. Questions are tricky but never tough. If you want to get a top 10 rank, aim high and take risks. I attempted 199 questions. There is never a right answer, there are always 3 wrong options. So eliminate.
PG Blazer: How did you prepare for the image based questions?
Dr. Kartik Gupta: I didn't specifically prepare for them. While reading during my MBBS I saw the images in books and the instruments during my postings. Since there were 52 images this time in AIIMS, I guess they are trying to see how much you have worked in ward. Essentially the trend is take the exam away from rote learning and give an advantage indirectly to people who are regular in studies.
PG Blazer: What was your strategy for revision on the day before the examination?
Dr. Kartik Gupta: As I said before my target was to revise 19 subjects in last 5 days. I could manage 13 subjects in last 4 days. To the point notes which give high yield are essential. Make a small diary where you can right down things that are volatile. Do not try to remember them till a week before exams because you are nevertheless going to forget it.
PG Blazer: What was your strategy for taking the exam?
Dr. Kartik Gupta: Since I was sufficiently well prepared I was looking to attack every question. Strategy was elimination of wrong answers. No mock is close to AIIMS entrance. I could solve a 200 question mock test in 90 minutes while it took me an hour to do first 55 questions in the final exam. Remain calm and composed and have the conviction that if you are struggling many more will be too. Mark questions for review judiciously. Do not mark for review any question in last 50 because essentially you are going to come back on them in another 20 minutes, so why not devote extra 30s at that moment itself. Take risks. Hard work makes you lucky.
PG Blazer: How many questions did you attempt?
Dr. Kartik Gupta: AIIMS – 199
PG Blazer: How many do you think you got correct?
Dr. Kartik Gupta: AIIMS – 160-165 maybe. I didn't count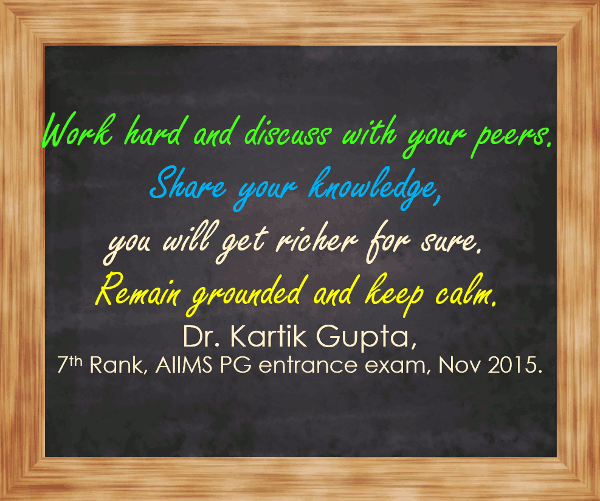 PG Blazer: What is your advice to future aspirants?
Dr. Kartik Gupta: Never underestimate yourself. You are the best. Work hard and discuss with your peers. Share your knowledge, you will get richer for sure. Remain grounded and keep calm.
PG Blazer: Please give your comments / suggestions regarding PG Blazer.
Dr. Kartik Gupta: An excellent platform for students to keep themselves updated.
PG Blazer: That brings us to the conclusion of the interview. Best of luck for your future endeavours!