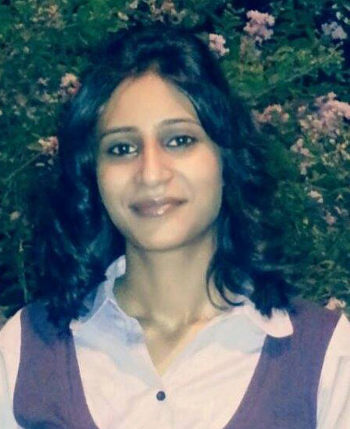 PGIMER Entrance topper – Dr Shivani Garg
PG Blazer: Congratulations on securing a top rank in the PGI entrance exam! What is the secret of your success?
Dr.Shivani Garg: Secret of my success : Constant desire to achieve this goal and working for it as hard as I could! And also the mantra to success in these entrance exams is re revising whatever you read rather than reading a lot of things without any revision.
PG Blazer: Could you tell us something about yourself?
Dr.Shivani Garg: I am Dr. Shivani Garg, residing in Faridkot, a district in Punjab. I did my schooling from DPS, Faridkot and my MBBS from MAULANA AZAD MEDICAL COLLEGE,NEW DELHI. I secured rank 40 in all India pre medical entrance test. I got rank 118 in AIIMS May 2015 and rank 24 in PGI May 2015.
PG Blazer: Who or what influenced you to take up Medicine as a career?
Dr.Shivani Garg: My parents are doctors and I have grown up in an environment where I always saw ill people around and how a proper treatment could make their lives better. This influenced me to take up medicine as a career.
PG Blazer: What were your aggregate percentage marks for MBBS?
Dr.Shivani Garg: I scored on an average of 68-70% in each MBBS prof.
PG Blazer: How did you prepare during your internship period?
Dr.Shivani Garg: Internship at MAMC is really very taxing and does not give you much time to study! So, I just could do a few basic subjects like anatomy, biochemistry and coaching notes during my internship and Amit Ashish for previous 5 years of AIIMS. With this I secured rank 2624 in AIPGMEE December 2014. I started preparing for the entrances after internship got over, that was in the month of February.
PG Blazer: Which were the various entrance exams you wrote in this session? What were the ranks you obtained?
Dr.Shivani Garg: I wrote AIPGMEE 2014 where as I mentioned I got rank 2624. In November PGI and AIIMS 2014 my ranks were 448 and 1000 respectively. In May PGI and AIIMS 2015, my ranks were 24 and 118 respectively.
PG Blazer: What changes did you make to your preparation after your last attempt?
Dr.Shivani Garg: In my first attempt I had not read much. So I started to prepare almost from the scratch in February.
PG Blazer: When did you start serious preparation for this year's entrance exam?
Dr.Shivani Garg: In the month of February after internship got over.
PG Blazer: What was your study strategy?
Dr.Shivani Garg: Its very important to understand that all 19 subjects are important. Yes, in different tests some subjects might be more important than others but if you are thoroughly prepared in all your subjects nobody can put you down. So I had made a timetable to cover all 19 subjects and along with that 3 mcq books of previous years i.e. Mudit Khanna for all India pg entrance, Amit Ashish for AIIMS and Manoj Chowdhury for PGI. I attempted to finish all the subjects reading along with these 3 books once atleast 1.5 month prior to the exam. After I had finished my first reading I started to revise the subjects I thought I was poor at and revised the previous years books. If I allowed 6 days for a particular subject, I used to attempt reading its theory in first 4 days and then do the questions from same subject from all the previous year books in the remaining 2 days. This allows you to cover subjects and these books simultaneously. Whenever I came across a topic while doing MCQs where I was less confidant or a topic which is repeated quite often, I used to go back to read that topic from standard textbooks like Harrison, Robbins, Ghai, Ganong / Guyton or Harper. And after reading this topic from these books I used to compile it in my notes for last minute revision.
PG Blazer: Did you make any notes for helping with your revision? Were they useful?
Dr.Shivani Garg: Yes I made notes which contained the topics I used to forget often like branches of arteries or new drugs or syndromes etc. And also contained the topics I read from standard textbooks. These notes helped me really a great deal as I used to read these notes 1 day before every exam.
PG Blazer: In your opinion, how much time does a student require for preparing for this exam?
Dr.Shivani Garg: 3-4 months of serious study is enough if you are prepared well during your MBBS years.
PG Blazer: How many hours did you study each day?
Dr.Shivani Garg: On an average 8-10 hours everyday.
PG Blazer: Did you have a timetable for preparation? Were you able to stick to it?
Dr.Shivani Garg: Yes, I did have a timetable. I made a monthlies timetable and then a day wise time table. I tried to stick to it as much as I could.
PG Blazer: What role did the internet play in your preparation?
Dr.Shivani Garg: Great role!! Internet connects you to vast arenas of knowledge if we make the right use. I used to ask my doubts online from various faculties of coaching institute. It helps in keeping you updated about various changes in different subjects. Whenever I had some doubt, I always searched it on the internet for an instant clarity of the doubt as our textbooks do not keep pace with the vastly changing science as much as internet does. Keep yourself updated for all new guidelines as that is what can be asked in these entrance examinations.
PG Blazer: Did you ever doubt your ability to get selected in this entrance exam? If so, how did you overcome your fears?
Dr.Shivani Garg: Yes I always did. And its quite a normal human behaviour. I always kept reminding myself of the place I want to see myself a few months down the line which kept me boosted. Also my parents really helped me overcome this fear.
PG Blazer: Did you attend any classroom coaching? Was it useful? Do you think classroom coaching is essential for getting a good rank?
Dr.Shivani Garg: Yes I did attend classroom coaching at DAMS and gave online tests at DAMS and Adrplexus. Classroom coaching is important if you start it in early years of MBBS like I started in 3rd year of MBBS. It helps you make good notes which are needed when you start to prepare.
PG Blazer: Did you attend any test series? If so, did you find it useful?
Dr.Shivani Garg: Yes, Adrplexus and DAMS. Adrplexus is a wonderful institute for preparing you for central institutes like AIIMS, PGI, NIMHANS and JIPMER. Very good quality test papers which simulate a real exam pattern. DAMS tests are also very good and gives you a fair idea of your rank as a lot of people enroll for the same.
PG Blazer: What were the subjects you focused upon?
Dr.Shivani Garg: Mainly 1st and 2nd year subjects.
PG Blazer: Which books did you read?
Dr.Shivani Garg: Anatomy – Across
Physiology – Across, Ganong and Guyton
Biochemistry – Across, Harper
Pathology – Gobind Rai Garg, Robbins
Microbiology – Rachna Chaurasia, Notes
Pharmacology – Gobind Rai Garg
Forensic Medicine – Across
ENT – Notes
Ophthalmology – Ruchi Rai
SPM – Vivek Jain, Park's. Always follow the changes in PSM. There are many changes in the latest edition of Park
Medicine – Notes
Surgery – Pritesh Singh, Notes
Orthopaedics – Apurva Mehra
Paediatrics – Arvind Arora
OBG – Notes
Anaesthesia – Notes
Radiology – Notes
Dermatology – Notes
Psychiatry – Notes
PG Blazer: What was your approach to Harrison's Principles of Internal Medicine?
Dr.Shivani Garg: Never read it cover to cover. Use Harrison wisely. Read it retrograde.
PG Blazer: Is there anything specific to keep in mind while preparing for AIIMS?
Dr.Shivani Garg: AIIMS is a tricky exam in the sense that you will find 2 options correct in most of the questions, so go through a lot of mock tests and grand tests to train your mind to find the correct option.
PG Blazer: How did you tackle the PGIMER entrance exam?
Dr.Shivani Garg: I read Manoj Chowdhury for PGI exam twice before the main exam along with the topics which are asked in PGI very often. Since you have to go through 1250 options in 3 hours, you really have to be fast and know your subject so strongly that you don't waste your time thinking. Be so well prepared that everything seeps deep into your subconscious mind which would help you do the pgi exam in the specified time.
PG Blazer: How did you prepare for the image based questions?
Dr.Shivani Garg: No specific preparation for this.
PG Blazer: What was your strategy for revision on the day before the examination?
Dr.Shivani Garg: I had made my notes for last minute revision. Give a lot of tests during your preparation time so that you don't feel the stress before the main exam.
PG Blazer: What was your strategy for taking the exam?
Dr.Shivani Garg: Start from the first and go till last without skipping any question in between except those which you know need some thinking or those questions which you don't know at all.
PG Blazer: How many questions did you attempt?
Dr.Shivani Garg: AIIMS – 197.
PGI – 530 options.
PG Blazer: How many do you think you got correct?
Dr.Shivani Garg: AIIMS – 140-145 maybe.
PGI – 460-480 options maybe
PG Blazer: Which speciality are you interested in choosing and why?
Dr.Shivani Garg: M.D. gynaecology . No specific reasons for choosing it. Its mainly after ruling out other branches. 🙂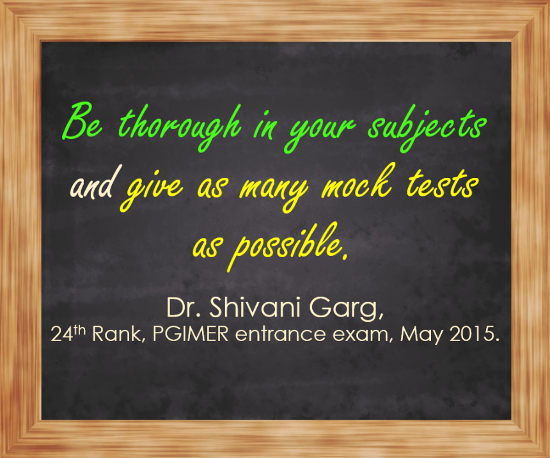 PG Blazer: What is your advice to future aspirants?
Dr.Shivani Garg: Be thorough in your subjects and give as many mock tests as possible.
PG Blazer: Please give your comments / suggestions regarding PG Blazer.
Dr.Shivani Garg: This site is an amazing platform to get to know about the studying styles followed by various toppers. Ultimately its your own strategy but PG Blazer definitely helps you develop this strategy for yourself.
PG Blazer: That brings us to the conclusion of the interview. Best of luck for your future endeavours!
Dr.Shivani Garg: Thanks a lot.