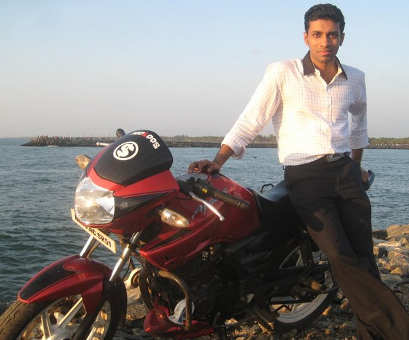 Congratulations on securing a top rank in AIIMS and PGIMER – PG entrance November 2011 ! What is the secret of your success?
Thank you! May be CONTINUOS HARD WORK AND DEDICATION, best wishes from my loved ones – my parents , my brother ,teachers, friends , and GOD  ALMIGHTY ….and lastly THE LUCK FACTOR….
Could you tell us something about yourself? (Where you are from, where you did your MBBS, your previous academic achievements etc…)
I am from Vidyangar , Kasaragod…. Northern most district of KERALA …
Did my schooling ( till 12 th std ) : kendriya vidyalaya no .2 at kasaragod
Passed out 10 th : 482 / 500 ..96.40 % marks in 2002…( AI Rank – 01 )
Passed out 12 th : 481 / 500 …96.20 % marks in 2004…( AI Rank – 04 )
Sought admission in the prestigious CALICUT MEDICAL COLLEGE in all India quota ( rank 505) in 2004.. I fear if seats would be available at calicut at this rank these days… Thank GOD.. I was born earlier….
What were the various entrance exams you wrote? What were the ranks you obtained?
This time around I wrote only two…
PGI CHANDIGARH Nov 2011– rank 25( obc rank 03) with 99.700 percentile marks…
AIIMS Nov 2011 – rank 12 (obc rank 03)
Was this your first attempt at this exam? If not, what rank did you obtain previously? What changes did you make to your preparation after your last attempt?
no…was writing AIIMS for the 3rd time and PGI for the 2nd time…
did not see my name in the aims rank list in the last 2 occassions…may be GOD wanted me to wait…
wrote MAY 2011 PGI – combined rank was around 300 ( obc rank 68 ) with 94.126 percentile marks..
ranks for the exams written previously…
all India 2010 – rank 16882 ( obc 4844 ) with 46.33 % marks..
kerala entrance2010 – rank 588
jipmer 2010 –rank 344
these HUGE numbers might remind you of the numbers written on the PRICE TAGS of branded shirts and suits….but take it from me. ….: .unless you prepare well you are not gonna get through…once you are up to the mark…YOU WILL CLEAR ALL THE EXAMS YOU WRITE…..
What was your study strategy? (read mcq and look the corresponding part in the textbook / read a topic in the text and read the corresponding mcq's etc… )
mainly concentrated in solving MCQ s from January 2010….did not spend more than 20 % of my total preparation time reading theory text books….solving maximum MCQs matter specially when you target AIIMS or ALL INDIA….had touched upon the theory text books during my UG days…
When did you seriously start preparing for the entrance exam?
started in mid January 2010..started with PG HUNT book meant for KERALA entrance and JIPMER…..boost for preparations came every now and then when exam results came..and you come to know …ENTRANCE is HIGHLY COMPETITIVE….and YOU ARE IN THE RACE…….
In your opinion, how much time does a student require for preparing for this exam?
slightly depends on how he has worked during UG days and his PREPARATIONS for entrance…
on an average I would say around 9 to 12 months…….
How many hours did you study each day?
started initially with 5 to 6hrs a day…gradually increased it …worked for around 12 to 14 hrs a day for last 3 months from AIIMS and PGI….
REQUEST : please don't compromise SLEEP and FOOD for "studying"….it will decline your performance…DAMN SURE…..
What role did the internet play in your preparation?
Did not have a direct access to it..
friends helped me out : DR.DWIDEEP .C….DR.ASHIK….DR.MUHD.AFSAL…
its good when you have to find answers to certain questions …say eg : Rasmussen aneurysm from bronchial artery or pulmonary artery….most common extra intestinal manifestation of AD PCKD..hepatic cysts or colonic diverticulosis…..mizou phenonmenon is seen in oguchi disease…
it also keeps you informed about the new advancements..say for eg : LETROZOLE aromatase inhibitor has been banned recently……new strain of KLEBSIELLA has arrived…..NOBEL PRIZE winners in MEDICINE for the year…
and to look into the RANK LIST of model exams you have been writing ..( eg : BHATIA GRAND TEST RESULTS…)
sites like ..PG BLAZER and RXPG where you would find lot more questions…discussions…can get your doubts cleared…information about various exams….solutions to controversial questions…so on….
Did you have a timetable for preparation? Were you able to stick to it?
EVERY PG aspirant must have his / her own….i too had one….
short time tables….max for a week….the material I put up for study is usually double the amount I could cover…but used to categorise it into category 01(most imp ) ……02…. …03(less imp ) ……04(least imp )…always started to read from cat 01 to 04…always completed cat 01..sometimes cat 02…but could never touch cat 04….
Did you ever doubt your ability to get selected in this entrance exam? If so, how did you overcome your fears?
Ya…it would be behind every ones mind…sure…
prayers to GOD , my parents , friends specially DR.ABDUL SHAMEER ( 47th batch) and DR.ANOOP A (48th batch) were of immense help…
we , in a group of three ( DR.ADAI and DR.TUSHAR VP : room mates ) , every now and then used to discuss our ambitions…..our chances…..our fears….those were real TENSION RELIEVERS………thank you my friends…
Were you able to prepare well during the internship period?
No….not much….mainly because I did not take much effort I should say…THEN motto was : WORK ..SLEEP ..and ENJOY …PLEASE don't use this motto any more my dear friends who are doing internship…work hard during internship you will get through…
Did you attend any coaching? Was it useful?
weekly classes at trissur medical college ..by trissur medical college alumni association (TMCAA)…best faculty….50 to 55 sessions…..1600 students….3 aiims mock test and 4 all India model tests…
weekly test papers separately…. Those were absolutely useful…..
Did you attend any test series other than that conducted by your coaching centre? If so, did you find it useful?
DR.BHATIA – joined grand test series and subject wise series……
Used variety of techniques in writing those test papers….
And selected the BEST POSSIBLE one for the REAL ONE…..
What were the subjects you focused upon?
All have got equal importance…….
Do not leave behind the short subjects..: skin .. anaesthesia..radiology…psychiatry…those are HIGH YIELDING ONES……..and these are the ones which are untouched during UG days….
What books did you read for theory?
Anatomy – chaurasia
Physiology – ganong
Biochemistry – vasudevan
Pathology – robbins grandfather
Microbiology – ananthanarayanan
Pharmacology – kd tripati
Forensic medicine – vv pillai
Ophthalmology –khurana..parson…
ENT – dhingra
Community medicine – park…
Medicine – Harrison…davidson…
Surgery – bailey .. SRB…
Obstetrics and Gynaecology – shaws….. Sheila balakrishnan…
Peadiatrics – o.p.ghai….
Anesthesia – nil…
Psychiatry – Davidson…
Radiology – nil…
What books did you read for MCQ's?
QUESTION PAPERS
1 ) Ashish gupta……… 2 volumes …from 2000 to 2010
2 ) Mudit khanna …….2005 to 2010
3 ) Manoj chaudhary ( PGI ) …2006 to 2010…it's a misconception that its going to be useful only for PGI exams ….no every pg aspirant aiming all India rank within first 100 to 150 must read this book…
Students preparing for KERALA entrance : your preparation is complete only when you have gone through the last 4 year papers from manoj chaudhary…
4 ) PG HUNT 2006 to 2011….book meant to tackle KERALA entrance and JIPMER PG entrance….(stress upon it only after all India entrance…will have a GAP of around ONE MONTH between all India and KERALA entrance…
5 ) RAPID REVIEW ..book from edulanche….fully solved question paper of all India 2011….
SUBJECT MCQs…
6 ) ACROSS volume 01…skin . anaesthesia… radiology…radoitherapy….psychiatry….ophthamology…ortho ( selected topics…only upper limb trauma and upper limb nerve injuries + bone tumours )
7 ) RACHANA CHAURASIA – microbiology…read it thoroughly….THE BEST BOOK among those for a particular subject.….
8 ) sparsh gupta – DO NOT GO INTO THE THEORY GIVEN…. Just solve the MCQs……..+ class notes DR.SUNIL KUMAR…
9 ) antomy : class notes by DR.ARIVUSELVAN…..
Read this much thoroughly with proper revision you will be assured of an AVERAGE rank within 1000 to 1200 in all India…
Attain completeness in preparations…..
9 ) aravind arora –spm : epidemiology…..health programmes….commitees……statistics (with formulas)…nutrition……vaccines…….
10 ) ACROSS volume 02…physiology ( endocrine , cell physio, resp , git ).. forensic …biochemistry ( questionsand ans ..just like a revision ..90 % biochemistry questions can be solved by reading previous papers…)
11 ) aravind arora – pathology…read topics : exclusive to pathology SUBJECT like inflammation …repair…cytokines ..interleukins …immunity .. + connective tissue diseases…rest of them will overlap in medicine .. surgery … gynaecology
An average to good student will be able to give correct answers to 80 to 85 % questions in medicine , surgery , paediatrics ( except certain AIIMS papers ) , and OBG …
ATTAIN PERFECTION…
12 ) ashish gupta medicine……. 2 volumes
13 ) ashish gupta surgery single volume
Have not read any subject book for both paediatrics and OBG….
For OBG : previous quest papers enough
For paediatrics : I read class notes by DR.KISHORE CHANDRA VARIER and previous question papers..
Is there anything specific to keep in mind while preparing for AIIMS? (when compared to AIPGMEE and other state exams) Regarding books for preparation, topics to focus on etc)
NO……… I don't feel so…
ONLY the exam strategy is different….
AIIMS :..+3 and -1 correct and incorrect responses…
all India : +4 and -1 for correct and incorrect responses…
but I would recommend you to attempt the maximum ……only then you would have at least the chance of getting those right…
How did you tackle the PGIMER entrance exam? (as it is very different from the other exams)
PGI CHANDIGARH exam is different from the rest….
less number of pure repeats…but the topic will be repeatedly asked…only that matters actually…
250 questions …5 options each….1250 options in total…and you have THREE hrs….
I feel …NOV 2011 was quite different from MAY 2011…NOV 2011 had very few topic repeats as well when compared to MAY 2011…
There is more chance of success in PGI exams for those who have in depth knowledge of the UG subjects…
Those might not need any special preparations for PGI exams…( background ashish gupta and mudit khanna knowledge is enough )….say for eg : DR.ADARSH MB (rank 21- gc rank 19 ) 99.746 percentile
NOTE : all these entrance exams are cracked most often by AVERAGE to GOOD students than by VERY GOOD to EXCELLENT ONES…not only because the "average to good student" community is larger…
Rest who have PASSION of joining PGI ….take this…..
Read MANOJ CHAUDHARY :
june 2006 to may 2011 question papers….at least twice during your preparation….
Start reading from the latest paper always….( THE GOLDEN RULE )
Need to revise at least FIVE latest papers the week before exam….
I read 3 papers after writing aims exams…( nov 14 to nov 17)..
Nov 18 th took for the journey to chandigarh..( flipped through 100 questions: may 2011 )
DAY BEFORE THE EXAM REVISED : may 2011 ( rest 100 )..nov 2010…may 2010…
(nov 19) All these quickly…….
Morning before exam : had a short hand book with around 30 to 40 IMPORTANT
TABLES and their corresponding page no. in manoj chaudhary
book……. .REVISED IT……….
STRATEGY I USED WHILE PGI EXAMS :
MAY 2011 : was writing such an exam for the first time….
No mock test was written before…
Read only TWO question papers from manoj chaudhary that too not the latest….
Friends advised :" try reading at least the complete paper in THREE hrs.…."
I answered at such pace that leaving around 15 to 20 questions I finished exam before 40
minutes…it indirectly told me that YOU WILL HAVE TIME ….. DISTRIBUTE OR DIVIDE IT
EQUALLY and in the correct manner……
NOV 2011 : STRATEGY I USED ………
Took the exam with an open mind….
Started answering questions taking each in its own merit….
After answering first 60 questions..looked into the time…took 35 minutes…
Roughly calculated the time for answering 300 questions ( total no of questions in the paper is 250 ) to be 175 minutes approx. 3 hrs….
Then decided to go at the same pace….
By GOD S GRACE … could complete reading the entire paper in 2.30 hrs….
Had left around 10 to 13 BIG / LONG questions unattended……
Answered it in the next 10 to 15 minutes…
Had marked around 30 to 40 options in the question paper . the DOUBTFUL ONES…if to mark it or not…..
Last 15 to 20 minutes ..decided to go for few ..and left few of them unmarked in the answersheet…
NOTE : YOUR DIGITAL PHOTO AND FINGERPRINTING would be done during the exam….
It takes less than 02 minutes…..
But you will be provided extra 10 minutes for that …
" It means PGI exam DURATION IS THREE HOURS AND TEN MINUTES……….".
( this wont be mentioned in your hall ticket )
That 10 minutes means a lot….
…. I marked 494 response in total …DR. ADARSH MB( rank 21- general rank 19…..99.746 percentile ) said he too marked around 480 to 500…..
PGI MOCK EXAMS :
these are conducted by ADRPLEXUS in two to three centres in kerala…
Write at least 01 or 02 mock exams ..so that you can assess your speed ..and formulate your strategy for the exam………
SELECT THE ONE THAT SUITS YOU MOST……….
What was your plan for the week before the exam?
PGI have already discussed….
THE WEEK BEFORE AIIMS : revised only the previous exam papers
ashish gupta may 2006 to nov2010…
mudit kahanna…2007 to 2010…
had marked few questions to look through in the last week in ashish gupta vol 02 ..2000 to 2005( not more than 20 to 25 questions from each paper )…could cover only less than 30 % of these ( 2000 to 2005 )…….
Previousday (nov 12 ): I read ashish gupta..may 2011…
Rapid review all India 2011…
What was your strategy for taking the exam?
PGI have been discussed earlier……
For AIIMS : Never had the problem of time limitation in solving aims or all india mock exams……
so the time factor was out…
answered 144 questions in first two hours…
tackled the rest by coming three to four rounds…
this time CHANGE IN ANSWERING PATTERN : need to write the no of UNATTEMPTED questions in the answer sheet both in numerals and in words….
MANAGING THE TIME FACTOR …..
Either you assess the question paper first by just going solving around 20 to 30 questions..and then decide whether to slow down or to accelerate…..roughly assess the standard of the paper…
OR…
set up a target of around 25 to 30questions in 20 minutes…
Always better that you set up short targets…
NEVER SET TARGETS say for eg..one and half hours 100 questions..next 100 in next 1.5 hrs….
The RISK IN IT …sometimes you might end up solving around 120 to 140 questions in first half…or end up solving only 75 questions … both will be bad…both will create tension in the hall..
ITS ALWAYS BETTER TO GIVE equal time for each question….as each one would fetch you the SAME MARKS……I FEEL SHORT TARGETS would be most beneficial in exams like ALL INDIA ..300 questions.and 3.5 hrs…..
Always BETTER stick to your OWN STYLE of answering…
…
How many questions did you attempt?
PGI :
I attempted around 246 to 248 …….it includes questions without response too….
RULE : cant go with a pre determined mind that you will attempt all… you will attempt only 240….or 235…
needs to decide accordingly in the hall……no of attempted questions does not count….
actually THE no of responses counts…..i marked 494…..
AIIMS –
i attempted all 200 …I too asked the same to all….how many should I attempt ?…
DR.JINEESH V (NOV 2010 aiims ..first rank..MD RADIO DIAGNOSIS)… " between 197 to 200 wud be better…"
DR. PADMARAJ ( KERALA entrance 2010 rank 07 MD GENERAL MEDICINE CALICUT MEDICAL COLLEGE –" if you want some rank and you are to satisfy with a nonclinical seat ..go conservartively….if you want medicine .….JUST GO FOR IT…..HAVE A BLAST….. attempt 200………"
DR.A ANOOP (all India 2011 rank130 MD RADIO DIAGNOSIS ..PGIMER , CALCUTTA…. – " decide it according to the paper…anyway…196 is required….."
How many do you think you got correct?
No one would attempt a question feeling that it would fetch me NEGATIVES……anyway how easy or how tough the paper is….…the top most rank would have got around 72 to 74 %maximum….
What is your advice to future aspirants?
Put up a time table …work accordingly….
Do not go behind CONTROVERSIAL questions …. Its enough that you read THE RELATED TOPICS….…
Revise the topics you have read AT REGULAR INTERVALS…
Never compromise SLEEP and FOOD…..
PRAY TO GOD CONTINUOUSLY …….
WORK HARD …..SUCCESS WILL BE YOURS………….
wish you all the very best…….
Please give your suggestions / comments regarding PG Blazer. (What you think about the service and how to improve it.)
You have been doing a great job …..
thanks for the latest updates…
discussions and solved papers all are very useful…
controversial and NEW questions need to be solved with proper references….
Wish you the best…..do continue the GREAT WORK……
That brings us to the conclusion of the interview. Best of luck for your future endeavors!
Thank you……..