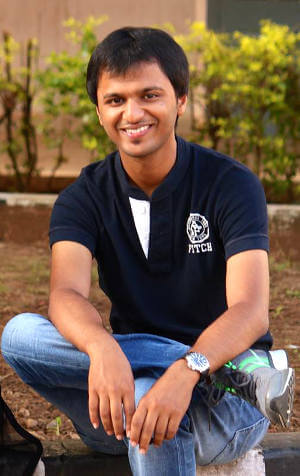 AIIMS PG Topper – Dr. Vivek Bagaria
PG Blazer: Congratulations on securing the top rank in the AIIMS PG entrance exam! What is the secret of your success?
Dr. Vivek Bagaria: Thank you! I know everyone says this, but you will realise how important your family, friends and God are during the ups and downs of your preparation. I'm grateful to them.
I honestly believe there is no such thing as a secret. Its all there in the open, everyone has the same information and books available. Its all about what you want from yourself, what you want to do and how much you can push yourself to get what you want. I wanted to study in the best institute in India and I believed if i give it my best i would stand a good chance. And from day one i prepared for AIIMS.
PG Blazer: Could you tell us something about yourself?
Dr. Vivek Bagaria: I am from Bangalore. Did my schooling from National Public School. I completed my MBBS from AIMS, Bellur. Have always been more interested in concepts than marks.
PG Blazer: Who or what influenced you to take up Medicine as a career?
Dr. Vivek Bagaria: The first time this thought came into my mind was when in grade 6. I was listening to an interview of a cardiac surgeon describing the feeling of holding a beating heart in his hand. I felt that would be AWSOME! And from there many factors added on, with the latest being my fascination towards oncology, especially Paediatric Oncology. I feel these children definitely deserve a better life and want to do my bit to contribute to their betterment.
PG Blazer: What were your aggregate percentage marks for MBBS?
Dr. Vivek Bagaria: 68.8%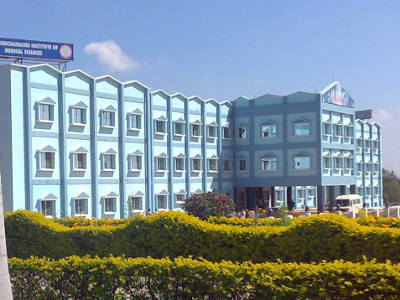 Dr. Vivek did his MBBS from AIMS, Bellur.
PG Blazer: How did you prepare during your internship period?
Dr. Vivek Bagaria: I did not prepare during internship. I was very clear I wanted to learn clinical skills during internship and prepare later. Didn't want to get into a mix of learning and preparing and end up messing up both. And I am glad I spent a quality time learning at Bowring and Lady Curzon Hospital.
PG Blazer: Which were the various entrance exams you wrote in this session? What were the ranks you obtained?
Dr. Vivek Bagaria: AIIMS- Rank 12
PGI – Rank 93
PG Blazer: What ranks did you obtain in your previous attempts?
Dr. Vivek Bagaria: During internship i had given AIPGMEE Nov 2013 to have a feel of the entrance world and to know where i stand and got a rank of 19000. That was a eye opener!! Gave JIPMER Jan 2014 got rank of 7000 something. Then i gave DNB July 2014 got a rank of 2000 something. I knew what i was preparing for and what i needed to do. Focused on AIIMS and nothing else.
PG Blazer: What changes did you make to your preparation after your last attempt?
Dr. Vivek Bagaria: This is the first time i gave AIIMS and PGI.
PG Blazer: When did you start serious preparation for this year's entrance exam?
Dr. Vivek Bagaria: After finishing my internship mid march 2014 and started focused studying from April 1st week. And AIIMS dedicated study from Independence day 😉
PG Blazer: What was your study strategy?
Dr. Vivek Bagaria: I focused on concepts and less on memory based points. I was lucky to have a mentor and teacher like Dr. Thameem Saif sir, who from day one told that with mounting tension only concepts will help on the exam day. I had planned to finish subject wise studying as much as I could by mid August and then start exam oriented studying. I used to attend classes on the weekend, read class notes and solve subject wise book the next 4-5 days, while always referring to the standard books and reading up important topics. If time permitted, i would solve the corresponding subject from all previous papers of AIIMS. I would take the subject wise test and monthly Grand test seriously. It is a very useful tool to judge your performance and assess your preparation, strengths and weakness.
Solving previous year papers are extremely important (AIIMS PGI and JIPMER) as the number of repeat topics constitute a significant portion of the paper.
PG Blazer: Did you make any notes for helping with your revision? Were they useful?
Dr. Vivek Bagaria: I used to add all the extra stuff I read during the week into class notes cause I knew I wouldn't have the time to revise from all subject wise MCQ books in the end.
PG Blazer: In your opinion, how much time does a student require for preparing for this exam?
Dr. Vivek Bagaria: I feel 6-8 months of dedicated and focused study is sufficient.
PG Blazer: How many hours did you study each day?
Dr. Vivek Bagaria: Initial 3-4 months about 8-10 hours and about 12-14 hours at the closing phase of my preparation.
PG Blazer: Did you have a timetable for preparation? Were you able to stick to it?
Dr. Vivek Bagaria: I did make a timetable and for the first time was almost able to stick to it.
All I would say is that everyone is going to make a timetable and set goals beyond their reach. It's normal and from these mistakes we learn and improve . But what I realised is making smaller targets initially and assessing them daily will help a lot. You should have a picture of what position you want to be in on exam day. It is not possible for everyone to know each and every subject in equal detail and depth. It has to be planned first on the weightage of each subject in the exam and then on ones own strength and weakness.
PG Blazer: What role did the internet play in your preparation?
Dr. Vivek Bagaria: Google was my go to place when I couldn't find a correct explanation in what ever books I had. Was of great help!!
PG Blazer: Did you ever doubt your ability to get selected in this entrance exam? If so, how did you overcome your fears?
Dr. Vivek Bagaria: Everyone preparing is bound to go through phases of confidence and doubt. Many a times the feeling will come if the topper of your college couldn't do it, how can you? It is at these time your 3 most important tools will come of use – Family, Friends and God.
I would tell all my fellow medicos preparing , the most important thing that you should have from the day of preparation to the day of the exam is the belief that you can do it.
As you have seen, I was an average student but dreamed of something much above average. I couldn't imagine myself compromising and settling for something less than what I wanted for something as important as my career.
PG Blazer: Did you attend any classroom coaching? Was it useful? Do you think classroom coaching is essential for getting a good rank?
Dr. Vivek Bagaria: I attended DBMCI Bangalore under the mentorship of Dr. Thameem Saif. It was very helpful. It enables you to complete the theory aspect of your portion in a matter of 6 months and then giving tests and assessing yourself on a weekly basis helps. The faculty – their experience and motivation – also plays a big role.
If it is essential to join is difficult to answer, because it varies from individual to individual. But it was definitely helpful for me.
PG Blazer: Did you attend any test series? If so, did you find it useful?
Dr. Vivek Bagaria: Bhatia test series.
PG Blazer: What were the subjects you focused upon?
Dr. Vivek Bagaria: All subjects are equally important and I tried to do everything to my level best. Only the weightage and difficulty level of subjects varies from exam to exam.
For AIIMS, basic core concepts with strong SARPEOO (skin, anaesthesia, radiology, psychiatry, ENT, ophthal, ortho) subjects would be an advantage.
PG Blazer: Which books did you read for theory?
Dr. Vivek Bagaria: I had read theory books during my MBBS importantly Snells Neuroanatomy, Robbins, Parson and important topics of Harrison 1st volume and quite a bit of 2nd volume. During preparation for entrance, though very tempting to read , theory books are only for reference.
PG Blazer: What was your approach to Harrison's Principles of Internal Medicine?
Dr. Vivek Bagaria: During preparation Harrison is only for reading a few high yield topics. Those is 3rd year , I would definitely tell them to read at least the 2nd volume.
PG Blazer: Which books did you read for MCQ's? Which ones were the most useful?
Dr. Vivek Bagaria: MCQ books mainly just to solve subject related MCQ and explanation if required from standard books.
Anatomy
Arvind arora
Ref – Grays
Physiology
Arvind arora
Ref – Ganong, Guyton
Biochemistry
Arvind arora
Ref – Lippincott, Harper
Pathology
Gobind garg
Ref – Robbins
Pharmacology
Gobind garg
Ref – Katzung
Microbiology
Arvind arora/Rachna Chaurasia
Ref – Harrison, Jawetz
FM
Arvind arora
PSM
Arvind arora
Vivek Jain – annexure
Ref – Park, WHO site, National health mission site
Ophthalmology
Across/ Arvind arora
Ref – Parson, Kanski
ENT
Manisha Sinha Bhudhiraja
Medicine
Mudit Khanna
Ref – Harrison, CMDT
Surgery
Arvind arora
Pre NEET surgery – Jainainder Arora
Ref – Bailey , Schwartz
OBG
Puneet Bhojani
Ref – Novak Gynecology , William Obstetric
Paediatric
Arvind arora
Ref – Nelson, CPDT, WHO site
Skin
Arvind arora
Ref – Harrison, Rook
Anesthesiology
Arvind arora
Ref – Ajay Yadav, Miller
Radiology
Sumer Sethi radiology
Psychiatry
Arvind arora, Pretest
Ref – Kaplan synopsis
Orthopedics
Apurv mehra
Ref – Harrison ( tumors and connective tissue )
Miscellaneous
Genetics – Robbins and Harper
Biostatistics – High yield biostatistics
Essentials
AIIMS amit ashish 7 years
AIPGMEE mudit Khanna 7 years
Vision JIPMER 5 years
PGI Manoj chaudhary 2 years
Kalam DNB Annexures and recent 3 years papers
Online test series ( AIIMS + DNB + Subject wise)
Class notes
REVISION !!!!
PG Blazer: Is there anything specific to keep in mind while preparing for AIIMS?
Dr. Vivek Bagaria: Stay concept oriented, stick to basics and make your short subjects strong. Previous year AIIMS papers(Amit  & Ashish) are extremely important. One must do them at least 3 times.
PG Blazer: How did you tackle the PGIMER entrance exam?
Dr. Vivek Bagaria: Hadn't really prepared for it, so I am not the best person to ask. But while giving the paper, I marked only what I was 70% certain of and took a few risks ( I guess a few too many).
PG Blazer: How did you prepare for the image based questions?
Dr. Vivek Bagaria: I didn't really do any special preparation. While referring to standard books for explanation, went through whatever pictures were there on that page.
PG Blazer: What was your strategy for taking the exam?
Dr. Vivek Bagaria: I knew it is extremely important to stay calm. So I slept well, forced my mind not to try to recall anything while waiting for 10 am and gave all the question in order. My time management was bad. I guess one should aim to finish the paper in 2.5 hours and then revise.
PG Blazer: How many questions did you attempt?
Dr. Vivek Bagaria: AIIMS – 183
PGI – Around 550 – 600 ( not sure)
PG Blazer: How many do you think you got correct?
Dr. Vivek Bagaria: AIIMS – I guess around 135-140 would have been my final score.
PGI – No idea.
PG Blazer: Which speciality are you interested in choosing and why?
Dr. Vivek Bagaria: Fascinated with Oncology , thrilled by the aura and challenge of surgery and love the innocence and care for children. Would take up anything that gives me a combination of the 3.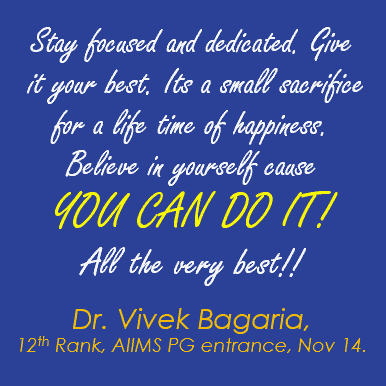 PG Blazer: What is your advice to future aspirants?
Dr. Vivek Bagaria: Stay focused and dedicated.Give it your best.Its a small sacrifice for a life time of happiness. Believe in yourself cause YOU CAN DO IT! All the very best!!
PG Blazer: That brings us to the conclusion of the interview. Best of luck for your future endeavours!