All are true regarding Caroli's disease except?
A. Intrahepatic stone formation
B. Biliary stasis
C. Commonly presents with ascites
D. Malignant change can occur
Correct answer : C. Commonly presents with ascites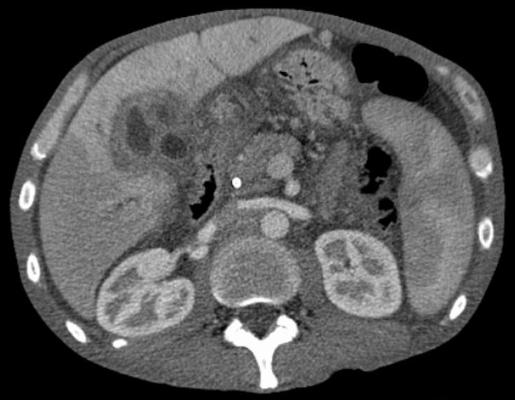 CT scan of cholangiocarcinoma. Malignant change can occur in Caroli's disease.
Caroli's disease is congenital dilatation of the intrahepatic biliary tree.
This disease is complicated by presence of intrahepatic stone formation.
Patients can present with abdominal pain or sepsis.
Biliary stasis with stone formation can lead to biliary sepsis.
Malignant change in the ductal system can lead to cholangiocarcinoma.
Ref: Bailey and Love's Short Practice of Surgery, 25th edition, p 1093.
Image credits: Samir. https://en.wikipedia.org/wiki/File:CT_cholangioca.jpg