Differentiating an ASD from a VSD using a chest X-ray is by detection of?
A. Enlargement of pulmonary artery
B. Enlarged left atrium
C. Dilated aorta
D. Pulmonary plethora
Correct answer : B. Enlarged left atrium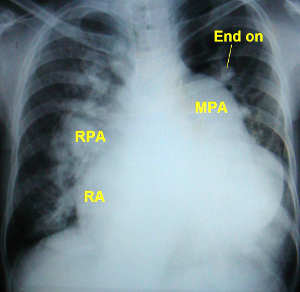 Chest X-ray of a patient with atrial septal defect showing an enlarged right pulmonary artery (RPA), main pulmonary artery (MPA) and right atrium (RA). End-on view of an enlarged pulmonary vessel is also seen.
Differentiating an ASD from a VSD using a chest X-ray
Left atrium is not dilated in a case of atrial septal defect (ASD).
It is dilated in patients with ventricular septal defect. (VSD).
Pulmonary plethora is present in both ASD and VSD.
Pulmonary artery is dilated in both.
Size of the aorta is normal in both.