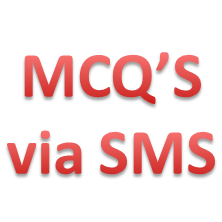 Update : We have temporarily stopped the SMS service. You can subscribe to our updates on twitter.
We are pleased to announce that PG Blazer is starting a SMS based service. You can receive PG Medical entrance MCQ's  and updates delivered to your mobile daily for FREE! The MCQ's will be based on questions previously asked in the various PG entrance exams – AIPGMEE, AIIMS, PGIMER, JIPMER, AFMC, NIMHANS and other state entrance exams. This service is available only for subscribers in India. If you have any comments / suggestions, please post them in the comments section below. And don't forget to tell your friends about this service! 🙂
To subscribe, send one of the following smses from your mobile:
'JOIN pgblazer' to 567678 –

SMS GupShup
OR
'ON pgblazer' to 09870807070 –

Google SMS Channels
You can also subscribe online by going to SMS GupShup or Google SMS Channels
Note: Both of these groups have the same content. So there is no need to subscribe to both. First try subscribing via SMS GupShup. If you do not get a confirmation sms, then you can try subscribing via Google SMS Channels. If you do not get a confirmation sms with any of them, please check your Do Not Disturb Status. If DND is enabled, you will not be able to receive any sms. You can check this by calling 1909 from your mobile.
Subscribe using Twitter to get extra MCQ's and tips via SMS!
Advantages of subscribing via twitter:
Get more MCQ's and tips (SMS Gupshup and Google SMS channels have a limit of 3 sms per day)
Better SMS delivery compared to SMS GupShup and Google SMS Channels
How to subscribe via twitter:
Signup for Twitter (www.twitter.com) if you havent already done so
Add your mobile (only available for Airtel / Reliance / Videocon users) to your twitter account by going to the 'Mobile' section in your 'Account settings'
After you have successfully connected your mobile to your twitter account, go to the PG Blazer page on twitter – www.twitter.com/pgblazer
Click on the 'Follow' button. After you click the 'Follow' button, a small icon of a mobile will appear on the right side
When you move your mouse to the icon, it will read : 'Tweets from this user are not sent to your mobile phone'. Click on the icon and you will get any future updates delivered to your mobile!
Important : You will receive SMS updates via twitter only if you complete all the 5 steps mentioned above! Please contact us if you have any doubts regarding how to subscribe.