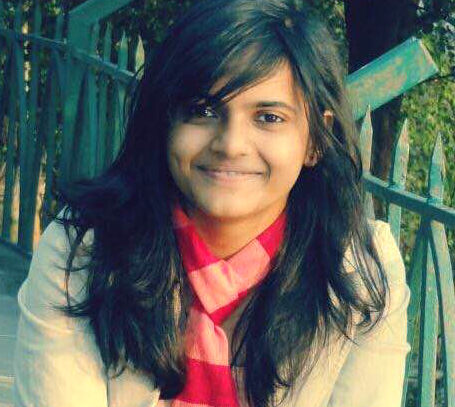 PGI entrance topper – Dr. Shayeri Roy Choudhury
PG Blazer: Congratulations on securing a top rank in the PGI entrance exam! What is the secret of your success?
Dr. Shayeri Roy Choudhury: Thank you so much! Hard work and determination were my driving forces. I always wanted to do my PG from a reputed centralised institute.
PG Blazer: Could you tell us something about yourself?
Dr. Shayeri Roy Choudhury: I am Shayeri Roy Choudhury, daughter of a pediatric surgeon and a pathologist. My schooling is from Delhi Public School RK Puram from 1994-2009. In the year 2009, I joined Maulana Azad Medical College for MBBS, and passed out of the same in December 2014. I secured a gold medal in biochemistry in my first year. I owe all my success to my alma mater. MAMC has not only taught me good medicine, but also how to be a fighter and a survivor.
PG Blazer: Who or what influenced you to take up Medicine as a career?
Dr. Shayeri Roy Choudhury: My father, mostly. He is a pediatric surgeon, and when I was small we were always on the move, sometimes UK, sometimes the USA, as he kept gathering fellowships. I was always in awe of him. My mother was always supportive and encouraging. Together they left no stone unturned to provide me the best education and help me achieve my dreams.
PG Blazer: What were your aggregate percentage marks for MBBS?
Dr. Shayeri Roy Choudhury: 69%.
PG Blazer: How did you prepare during your internship period?
Dr. Shayeri Roy Choudhury: I really couldn't. Internship in our college was really a test of our mettle, and after doing close to 90 hours of duties a week in medicine, I was really spent. I studied for a total of 45-50 days during that year, just enough to secure a face saving rank in AIPGMEE.
PG Blazer: Which were the various entrance exams you wrote in this session? What were the ranks you obtained?
Dr. Shayeri Roy Choudhury: AIIMS May 2015 – 80,
PGI May 2015 – 4.
PG Blazer: What ranks did you obtain in your previous attempts?
Dr. Shayeri Roy Choudhury: AIPGMEE- 2819,
PGI – 549,
AIIMS – 707 (did not make it into the rank list).
PG Blazer: What changes did you make to your preparation after your last attempt?
Dr. Shayeri Roy Choudhury: I studied harder, I put in most of my waking hours into studying. I cut off all distractions and I took DAMS T&D coaching in Delhi (Something I highly recommend. The faculty at DAMS is beyond excellent).
PG Blazer: When did you start serious preparation for this year's entrance exam?
Dr. Shayeri Roy Choudhury: 1st Jan 2015. Right after my internship ended.
PG Blazer: What was your study strategy?
Dr. Shayeri Roy Choudhury: The test and discussion schedule was always known to us. So I went through the subject in the guide book, solved the MCQs, and the day before the test, revised it again. Obviously, the tests were difficult, and the batch I had joined was full of doctors aiming for May PGI and AIIMS, but I kept getting better at the tests rank wise. The classes after the tests were immensely enlightening. Our guidebooks grow old, and the latest questions are always missed, but the teachers never missed that. Within 3 months I had notebooks full of information you can't find in guides.
PG Blazer: Did you make any notes for helping with your revision? Were they useful?
Dr. Shayeri Roy Choudhury: Yes. Specific subjects. Medicine, surgery, pathology. And a book for miscellaneous topics that didn't fit anywhere. Notes are useful to lots of people. I've always been a textbook reader. I find  comfort in running texts and explanatory sentences. But the day before the exam, I did go through some of the notes, especially the book for miscellaneous topics.
PG Blazer: In your opinion, how much time does a student require for preparing for this exam?
Dr. Shayeri Roy Choudhury: 6-8 months of intense preparation.
PG Blazer: How many hours did you study each day?
Dr. Shayeri Roy Choudhury: 14-15 initially. 18 in the last 45 days, many people will claim to have studied much lesser hours wise, but I was in a race against time, not having studied throughout internship.
PG Blazer: Did you have a timetable for preparation? Were you able to stick to it?
Dr. Shayeri Roy Choudhury: Yes, my timetable paralleled that of my coaching T&D, till March. April onwards I concentrated on revising. So I had a tight schedule. I was able to stick to it, as I wasn't working anywhere, only preparing for the exams.
PG Blazer: What role did the internet play in your preparation?
Dr. Shayeri Roy Choudhury: Lots. I got addicted to Radiopaedia during my prep days. It is really a handy website, not saying it's infallible, but I did rely on it quite a bit. 🙂
DAMS also had a great Facebook group. It was always buzzing with activity, almost a doubt posted every minute. It was really inspiring and sometimes scary to see how well prepared
some students were. It was also comforting to see the faculty answer, and post information on various subjects. Usually the Internet is distracting, but in my case, it was immensely helpful.
PG Blazer: Did you ever doubt your ability to get selected in this entrance exam? If so, how did you overcome your fears?
Dr. Shayeri Roy Choudhury: Almost everyday. I filled my bedroom and screen saver with inspirational quotes. I also spent a lot of time talking to my parents, who really motivated me, and kept me calm (or at least tried).
PG Blazer: Did you attend any classroom coaching? Was it useful? Do you think classroom coaching is essential for getting a good rank?
Dr. Shayeri Roy Choudhury: In my third year I joined DAMS. I wasn't even a tad bit serious about pg preparation back then. I was also considering USMLE as an option. But I am thankful for the notes Medicine and surgery teachers gave us. Helped me survive final year, and were useful during the preparation days. A good classroom coaching is almost necessary for a good result in competitive exams, because with the ever changing exam pattern, and guidelines, one can't keep up with the pace. For example, if I was told to read the latest Harrison (19e) which came out only a month ago, I would go crazy. But in coaching, the teacher would probably sum up the changes, the salient points and the must know points. But then again, at the end of the day, you can't entirely rely on a coaching institute to propel you forward. You are the captain of your ship. Only you decide where you go.
PG Blazer: Did you attend any test series? If so, did you find it useful?
Dr. Shayeri Roy Choudhury: Yes. DAMS test series were very helpful, as far as the number of students goes. With 5000+ taking each grand test, your assessment of your preparation can be gauged. I also joined ADRPLEXUS for PGI test series. Highly recommended for PGI preparation. Wouldn't have done half as well without the practice.
PG Blazer: What were the subjects you focused upon?
Dr. Shayeri Roy Choudhury: I tried to cover all subjects with equal sincerity. But 2nd prof subjects, 3rd prof subjects, and all the shorts (derma, anaesthesia, radiology, orthopaedics, psychiatry) are very high scoring. If I may say so, please don't ignore any subject.
PG Blazer: Which books did you read for theory?
Dr. Shayeri Roy Choudhury: Anatomy – BDC
Physiology – Ganong and AK Jain
Biochemistry – Harper
Pathology – Robbins
Microbiology – Baweja
Pharmacology – KDT and Katzung
Forensic Medicine – Reddy
ENT – Dhingra
Ophthalmology – Khurana
SPM – Park
Medicine – Harrison and Mathews
Surgery – Manipal and Bailey and Love
Orthopaedics – Maheshwari
Paediatrics – Ghai
OBG – Dutta and Shaw's
Anaesthesia – from DAMS notes
Radiology – covered within the subjects themselves
Dermatology – Neena Khanna
PG Blazer: What was your approach to Harrison's Principles of Internal Medicine?
Dr. Shayeri Roy Choudhury: I read almost all of the second volume during my final year, and during my pg prep I read the first volume almost cover to cover. I will say that the microbiology and haematology sections were very helpful as sentences were picked up from the text as options in the PGI paper.
PG Blazer: Which books did you read for MCQ's? Which ones were the most useful?
Dr. Shayeri Roy Choudhury: Exam specific books : I read the AIIMS review by Amit Ashish. I would suggest covering last 3 years papers, and finding the right answer to all questions (not always is the guide correct) as getting repeats wrong is a cardinal sin in AIIMS. An AIIMSonian wrote the AIIMS NOV 2014 recall book. I found that very useful because nobody reads the exam questions better than somebody who's in the race himself. And I believe almost all the answers given were correct. He is writing the MAY 2015 recall again I hear. Highly recommended book.
Manoj Chaudhary for PGI is also useful, although repeats are rare in PGI. But one gets an idea of the type of questions asked, and topics most commonly touched upon (eg: bartonella, rickettsiae, contraceptives and milestone- you will almost always find a question on these in the paper)
When I took the NEET in 2014: I read the self assessment and review of NEET. It was quite helpful back then, because I was grossly under prepared, and these gave a rough idea of what I was to face.
Subject wise books:
Anatomy – Arvind Arora
Physiology – Arvind Arora
Biochemistry – Arvind Arora and parts from Across
Pathology – Gobind Rai Garg ( I read more of Robbins even for preparation)
Microbiology – Rachna Chaurasia
Pharmacology – Gobind Rai Garg
Forensic Medicine – Arvind Arora
ENT – Arvind Arora
Ophthalmology – Arvind Arora
SPM -Vivek Jain (please also read park)
Medicine – Mudit Khanna
Surgery – Pritesh Singh
Orthopaedics – Arvind Arora
Paediatrics – Arvind Arora
OBG – Sakshi Arora (book has a lot of errors though)
Anaesthesia – Arvind Arora
Radiology – Arvind Arora
Dermatology – Arvind Arora (and comparison tables from Neena khanna)
Psychiatry – Arvind Arora
PG Blazer: Is there anything specific to keep in mind while preparing for AIIMS?
Dr. Shayeri Roy Choudhury: Please don't get repeats wrong. You will be pushed out of the competition. Try to mark as many questions as you can BUT realise your limits. Don't aim for 195+ by making wild guesses. If you can guess with reasonable surety – go for it. A senior teacher at DAMS said anything above 185 is a good attempt. Read each option carefully. AIIMS will trick you at every opportunity, and even this time I fell prey to many of the tricks. Subjects to revise a week before the exam – biochemistry, ophthal, PSM.
PG Blazer: How did you tackle the PGIMER entrance exam?
Dr. Shayeri Roy Choudhury: My goal was – minimum negatives. I was reasonably well prepared, so I didn't want to endanger my rank by making wild guesses. I left close to 6-7 questions blank; but what I did know, I attacked with full force.
PG Blazer: How did you prepare for the image based questions?
Dr. Shayeri Roy Choudhury: Saw the derma pictures in Neena Khanna ( she is a senior consultant at AIIMS so the pictures are usually straight out of her book), followed DAMS club on Facebook religiously (lots of photos each day) , but I think a strong hold on theory takes care of most picture questions, as usually a history is provided along with photo. PGI doesn't have any picture questions.
PG Blazer: What was your strategy for revision on the day before the examination?
Dr. Shayeri Roy Choudhury: I am usually the person who studies a lot in the last minute in an adrenaline rush. Before AIIMS, I brushed up my PSM (best decision ever) and went through the repeat questions. Before PGI, I was going through my pharma and path notes. But every one has their own pre exam strategy. You can't really copy anybody.
PG Blazer: What was your strategy for taking the exam?
Dr. Shayeri Roy Choudhury: Start from the beginning – go through all the easy ones first. Mark the tough ones for review – revise them.
PG Blazer: How many questions did you attempt?
Dr. Shayeri Roy Choudhury: AIIMS – 186,
PGI – 510 options.
How many do you think you got correct?
Dr. Shayeri Roy Choudhury: AIIMS – no idea, but surely more than 136-137,
PGI – can't tell.
PG Blazer: Which speciality are you interested in choosing and why?
Dr. Shayeri Roy Choudhury: MD Medicine – simply because it was always my dream. 🙂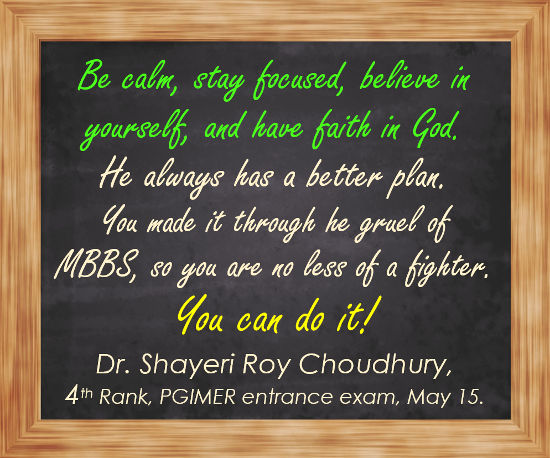 PG Blazer: What is your advice to future aspirants?
Dr. Shayeri Roy Choudhury: Be calm, stay focused, believe in yourself, and have faith in God. He always has a better plan. You made it through he gruel of MBBS, so you are no less of a fighter. You can do it!
PG Blazer: Please give your comments / suggestions regarding PG Blazer.
Dr. Shayeri Roy Choudhury: Excellent forum. The Internet has become such an irreplaceable tool for PG preparation, and with so many bright PG aspirants on one website, discussing doubts and strategies, books and questions, success mantras and advice – it is just inspirational beyond doubt.
PG Blazer: That brings us to the conclusion of the interview. Best of luck for your future endeavours!
Dr. Shayeri Roy Choudhury: Thank you. Honoured 🙂