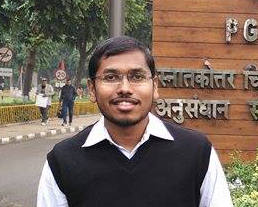 PGI entrance topper: Dr. Suresh Babu Boddapati
PG Blazer: Congratulations on securing a top rank in the PGI entrance exam! What is the secret of your success?
Dr. Suresh Babu Boddapati: Daily consistent study. It may seem simple in words but practically it's very difficult to study regularly on a day to day basis for more than a year. No matter whether it is a Sunday or any festival or other students are coming or not , I used to go to the reading room and study. I stayed in Hyderabad while preparing which is away from my home (Vizianagaram), I went home only once (that too for 10 days only) during this year. I was just an average student in MBBS (aggregate 68%) never got a gold medal, just 1 distinction in 2nd yr (75%). But I'm now here just because of my hard work, persistence and dedication.
PG Blazer: Could you tell us something about yourself?
Dr. Suresh Babu Boddapati: I'm from Vizianagaram, Andhra Pradesh. I did my schooling from St.Joseph's EM High school Vizianagaram, intermediate from Narayana junior college, Nellore. Got 19th Rank in EAMCET (AP State UG entrance test) in my first attempt and joined Osmania Medical College, Hyderabad. There are no doctors in my family, I'm the first to join MBBS.
PG Blazer: Who influenced you to take up medicine as a career?
Dr. Suresh Babu Boddapati: I took medicine as suggested by my father. Actually my grandfather wanted my father to be a doctor, unfortunately that couldn't be achieved as getting a MBBS seat was very difficult at that time when mostly persons from a doctor's family could get a MBBS seat. With the advent of coaching centres like Narayana and Sri Chaitanya in AP, it's possible for most of students like me without any family background of doctors to get into MBBS.
PG Blazer: What was your aggregate percentage marks for MBBS?
Dr. Suresh Babu Boddapati: 68%
PG Blazer: How did you prepare during your internship period?
Dr. Suresh Babu Boddapati: Internship was hectic in my college as with all other government medical colleges. I even got frustrated with the kind of work in internship, took 4 months gap in between and completed internship over a period of one and half year (by NOV 2014). I tried to study during Sundays and PSM, ENT, Opthal postings and whenever I got some free time, but all my attempts were futile. Many of my friends joined coaching during internship. I never attended coaching during my MBBS, thought I can crack PG entrance on my own. While my friends who joined coaching during internship, did well and got better ranks than me then I realised my mistake and joined PGEI coaching. While studying myself , it took more than a month for reading each subject from MCQ guide books, but in coaching centre they used to complete each subject in 3 days covering all high yield topics. Coaching really makes huge difference.
PG Blazer: What ranks did you get in your previous attempts?
Dr. Suresh Babu Boddapati: Ranks in 2014 (without coaching)
~750 – APPG-1, March.
~700 – APPG-2, April (It was a conducted again).
~1200 AIIMS MAY 2014 session.
Joined PGEI, Hyderabad in May 2014.
Nov 2014 session
~200 AIIMS
~160 PGI
May 2015 session
APPG – 40 (Didn't attend the counselling, not interested in state PG)
AIIMS ~ 400
PGI ~ 130
I attempted last two papers of PGI in somewhat defensive mode, attempted about 400-450 options only which I am very sure were correct, as many seniors told me not to attempt doubtful options because of negative marking. But in that way I got average ranks (160,130) for which I didn't get any desired branch. In this attempt, I changed my way of answering, attempted 600-650 options,
when an option seems to be correct (even if I am not very sure) I marked it. This time paper was also easy with all repeated topics. While reading Manoj Chaudhary, I observed that whenever a new syndrome is in the options its almost always included in answer, they were given as if we had to read and know them. I marked such kind of options also by guess work. I did one mistake also, I thought of leaving one question since there is no correct answer among the options so I left blank space in omr sheet without marking any option, but I marked the options of next question in this space and its definitely negative. These kind of mistakes should be reduced.
I am weak in cardiology, I used to selectively skip ECG topic, but in this AIIMS exam 4 questions came from ECG topic, so my rank went back.
Nov 2015 session
AIIMS – 107
PGI – 2
DNB – 57
PG Blazer: When did you start serious preparation for this year's entrance exam?
Dr. Suresh Babu Boddapati: I took 10 days off after JIPMER may exam, then again started reading for November session. But my study over the past 1 year helped me secure this rank.
PG Blazer: What was your study strategy?
Dr. Suresh Babu Boddapati: I read class notes first and then did the MCQs from guide books, subject wise and mark difficult questions, add important points to class notes such that it will be easy to revise. It's better to read pathology and medicine MCQ books together system vise like respi, renal, haematology etc since there will be lot of common MCQs in each system.
A month before exams, I used to start repeats like Manoj Chaudhary for PGI, AA for AIIMS, Arun Babu for JIPMER, but the importance of repeats had declined now, so its better not to waste much time on them, one should just read questions and answers from those books, should not waste time reading explanations from those books, its better to revise that topic from class notes.
PG Blazer: Which books did you read for Pg preparation?
Dr. Suresh Babu Boddapati: Biochem – Vishal sir (PGEI) notes, pulse MCQs
Anatomy – PGEI class notes, pulse MCQs
Physiology – pulse MCQs, DAMS class notes
Path – JP publications (Gobind, Sparsh)
Pharma- DAMS Class notes, JP (Gobind Garg)
Micro – JP (Apurba Shankar Sastry)- best book for micro.
FM – pulse
ENT – Dr. Manisha Budhiraja book – best book for ENT
Opthal – pulse MCQs
SPM – PGEI class notes, Vivek Jain for MCQs
Surgery – Pritesh Singh – best book but too extensive (don't give too much time reading explanations)
Medicine – pulse (don't give too much time, medicine is vast, and always new updates and new questions will be coming)
Peds- pulse MCQs, DAMS class notes
ObGyn – Punit Bhojani book, I also read contraception topic (only MCQs, high yield) from Sakshi Arora
Skin, Anaesthesia, Psychiatry, Radiology – read class notes, did MCQs from pulse.
Ortho- Apoorv Mehra book
Attended Apoorv Mehra class, he will give one high yield synopsis booklet (very useful)
(Note: pulse and JP (Jaypee) are different publishers of MCQ guide books for medical PG entrance exams.)
PG Blazer: Did you make any notes for helping with your revision? Were they useful?
Dr. Suresh Babu Boddapati: Yes, I did make notes for revision, I wrote difficult MCQs from guides in a notebook and used to revise those notes since guide books are difficult to revise. At the end of my preparation for this session I had two notebooks like that, mostly of short subjects.
I used my mobile to take photos of high yield topics like IPC sections, some tables, topics which are asked repeatedly, and revised them often.
It was very useful, having it on mobile you can revise anywhere on the go.
Besides this, coaching class notes is very useful.
PG Blazer: How many hours did you study each day?
Dr. Suresh Babu Boddapati: Approximately 10hrs per day. I used to go to reading room by 9 am, studied till 11.30 pm, with breaks for lunch, dinner, 1hr sleep after lunch, evening tea with friends during which we have a group discussion on the topics studied that day.
PG Blazer: What role did internet play in your preparation?
Dr. Suresh Babu Boddapati: Internet was very helpful, if I got any doubt in any topic, I used to Google it and get some basics.
I used to take pics of controversial questions and email or what's app those to the respective faculty of coaching centre, they used to reply whenever possible, thus I saved time and got correct answers.
PG Blazer: Did you ever doubt your ability to get selected in this entrance exam? If so, how did you overcome your fears?
Dr. Suresh Babu Boddapati: Yes, I used to have such kind of doubt, to overcome such doubts I used to read interviews of toppers in websites like PG Blazer, rxpg, etc. Among those interviews Dr.Vivek Lanka's interview is very inspirational. Whenever I'm in doubt or depression, I used to read those interviews, correlate some common points between myself and the toppers,
get some important points like which books to read, how to study etc and change my study pattern. Some toppers spent 2 yrs for preparation for getting into central institutions like AIIMS, PGI. After reading the interviews, I used to get the feeling that if they can do it, I too can do it.
PG Blazer: Did you have a timetable for preparation? Were you able to stick to it?
Dr. Suresh Babu Boddapati: Yes , I had timetable for each session, allotted days to each subject, when to start revision etc. I followed it as far as possible but it has to be changed during last 2 months and speed up according to the time left.
PG Blazer: Did you attend any classroom coaching? Was it useful? Do you think classroom coaching is essential for getting a good rank?
Dr. Suresh Babu Boddapati: I attended PGEI classroom coaching in Hyderabad. It's very useful. With the present competition for getting a PG seat, I think coaching is compulsory these days for getting a good rank. I always regret that I could have saved 6 months if I had joined coaching earlier.
PG Blazer: Did you attend any test series? If so, did you find it useful?
Dr. Suresh Babu Boddapati: I wrote Bhatia test series in my internship, but at that time I didn't read theory, so they weren't much useful. After coaching I wrote DAMS test series. Test series will be helpful only after reading theory once or twice. I just used them to assess the topics in which I'm weak. I never used to assess ranks with test series, they won't matter in the final exam.
PG Blazer: What were the subjects you focused upon?
Dr. Suresh Babu Boddapati: I read all subjects, with more focus on short subjects, which can be revised easily and one can score maximum from them. Medicine is vast, it will take much time and new questions will be coming every time, so didn't gave much time for it. For getting into top 10, one should not neglect any subject.
PG Blazer: What was your approach to Harrison's Principles of Internal Medicine?
Dr. Suresh Babu Boddapati: I never read that book.
PG Blazer: How many questions did you attempt?
Dr. Suresh Babu Boddapati: I marked about 600-650 options in PGI, 194 questions in AIIMS.
PG Blazer: Which speciality are you interested in choosing and why?
Dr. Suresh Babu Boddapati: I didn't like any of the clinical branches during internship and in PGI all clinical branches are very hectic, radiology is relatively better, and I'm vexed with 36 – 48 hrs night duties, even our health is getting worse with that kind of work.
Radiology is mostly reading,understanding and reporting and I think this kind of work suits me well, so I took radiology.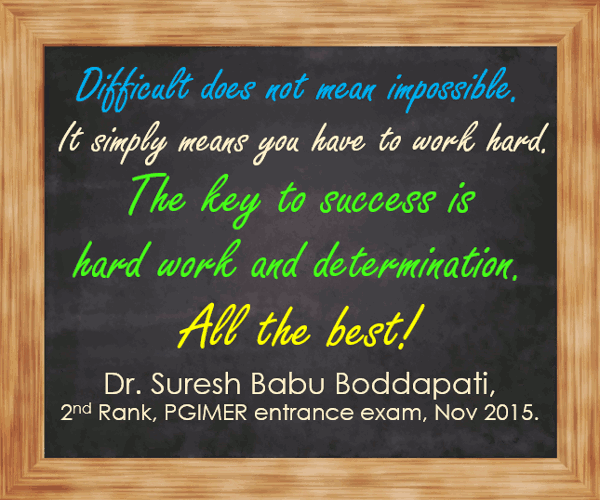 PG Blazer: What is your advice to future aspirants?
Dr. Suresh Babu Boddapati: I want to share some of my thoughts and experiences which I feel may be helpful to the future aspirants.
1. I never read HARRISON, BAILEY, or any other high standard books. If you have read those books in UG its fine, otherwise don't touch them now. If its possible for me to get 2nd rank without reading them, it's possible for you also. I have seen many of my friends who never touched HARRISON and they are now doing PG in AIIMS, PGI and JIPMER. So don't worry, stay cool in this aspect. I also never used any textbook during PG preparation.
(Note: I never read those standard books, but I attended coaching classes and had a good knowledge of all the important concepts being asked in PG entrance.)
2. If you don't have any reservation, don't discuss, complain and waste time over that. Don't worry for problems which are not in your control, you can't solve them now, stop thinking of it and start studying.
3. COACHING is compulsory in the present competition. Many students join foundation courses in UG . I attended PGEI after internship. Ranks come from every institution. The faculty keeps on changing in every institution, if I felt like some classes weren't good, I used to take xerox of class notes from my friends in other coaching institutes and read from it.
4. CLASS NOTES help you a lot, write it well. While doing MCQs if you find new points, add them to class notes you can't revise the whole mcq book in 1 day, notes will be easy to revise.
5. IMAGE BASED MCQS: get prepared for these MCQs, take a look at photon book by Vivek Jain, but don't waste too much time on it. Most image based questions can be solved on theory knowledge and are relatively more easy, but you have to observe carefully for the clues in it.
6. Every one get depressed during preparing, I used to read interviews of toppers in websites like PG Blazer when I'm depressed, get motivated from their success stories, learn new things, correct my faults. For studying more than a year, one should have strong MOTIVATION, I read Robin Sharma book (A monk who sold his Ferrari) after last May session and inculcated some good habits, used to see the motivational speech from Rocky movie, listened to Eminem songs (till I collapse).
7. REPEATS: always read previous papers, read just the question and answer, don't waste time reading every explanation from Amit Ashish (AIIMS vol), Manoj Chaudary (PGI). Refer your class notes if you have any doubt. If you go to an exam without doing repeats, you are out of the competition.
8. BELIEVE IN YOURSELF: I belong to a family with no medical background, and I had no reservation, when I got 40th rank in APPG march (after 1yr of preparation), everyone especially family members insisted me to take it (peds), said I may not get a better rank next time. I'm not interested in state PG, some of my friends supported me and said I deserve better. I almost had all branches (except MEDICINE and RADIOLOGY in govt colleges). I believed in myself, took the risk and went against their will, didn't attend APPG counselling. Then I didn't get any seat getting rank in MAY session (AIIMS ,PGI, JIPMER). Everyone started giving lectures saying I had made a huge mistake, said luck won't be with you all the time. Then I said to myself that I'll beat luck with my hard work and persistence. I studied again for 6 months, Now I'm here with 2nd rank in PGI and took Radiodiagnosis.
PG Blazer: Please give your comments / suggestions regarding PG Blazer.
Dr. Suresh Babu Boddapati: I used to read interviews of toppers on PG Blazer website, I'm following PG Blazer on FB for the past 1 year and I used to see all the motivational messages you post on FB. You guys are doing great work, keep going.
PG Blazer: That brings us to the conclusion of the interview. Best of luck for your future endeavours!