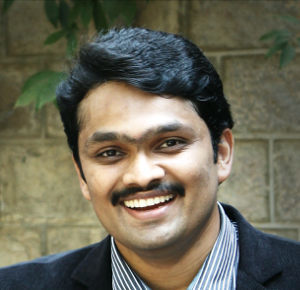 PGI entrance topper – Dr.Vikram Damaraju
PG Blazer: Congratulations on securing a top rank in the PGI entrance exam! What is the secret of your success?
Dr.Vikram Damaraju: Consistency, intelligent hard work, planning and most importantly a goal.
PG Blazer: Could you tell us something about yourself?
Dr.Vikram Damaraju: I'm from Guntur, Andhra Pradesh. Did my schooling at LFEMS, Guntur. Graduated from Guntur medical college (2008 batch). I bagged gold medals in biochemistry, pharmacology and pathology. My extracurricular activities include playing table tennis ( represented DR.NTRUHS for south zone inter university competitions – 2011), shuttle, chess.
PG Blazer: Who or what influenced you to take up Medicine as a career?
Dr.Vikram Damaraju: My family.
PG Blazer: What were your aggregate percentage marks for MBBS?
Dr.Vikram Damaraju: 72.5%
PG Blazer: How did you prepare during your internship period?
Dr.Vikram Damaraju: I am a guy who studied from my 1st year itself not for cracking pg exams, but for the love of subject. Every textbook has its pros and cons. Some topics are better explained in one textbook and some in another. I used to read at least 2 textbooks for each subject. After I read a chapter once or twice in a textbook, I would go for another author for the same topic. Every author has his own way of explaining a concept. Reading different books helped me build a strong foundation from 1st year itself. My strength is having strong concepts in 1st and 2nd year subjects. Robbin's is one book I read the most number of times (at least 6 times) in my MBBS. I studied Robbin's for 3-4 hrs daily in my 2nd year. My actual preparation for PGCET started from 3rd year. From 3rd year onwards I started reading Harrison daily for 2-3hrs, which helped me a lot in my preparation. Final year was the turning point for me. I studied for 7-9 hrs daily in my final year. I completed most of the final year's subject's subjectwise books in the final year itself.
In AP, internship is from march to march. So by 6-7 months i.e. by December 2013, I read most of the remaining subjectwise books. From Jan I studied exclusively PGI past papers . I could not read AIPGMEE and AIIMS volumes then. I attended one month short course for PGI by Adrplexus during March and April. It helped me for one more fast revision.
In May 2014 PGI – I got 49 overall and 39 gen.cat. As I knew 49th rank wouldn't fetch me Gen. medicine , in spite of my passion being gen.medicine, I compromised and joined paediatrics in the 2nd counselling. Since I couldn't develop any interest towards paediatrics even after being there for 6 months, finally I resigned in December 2014 and returned home against all odds . From Jan 2015 my actual preparation started. This time more energetically and aggressively…..
PG Blazer: Which were the various entrance exams you wrote in this session? What were the ranks you obtained?
Dr.Vikram Damaraju: NIMHANS – March 2015- 17th rank under DM neuro.
PGI – May 2015 – 10th rank overall , 8th under general cat.
PG Blazer: What ranks did you obtain in your previous attempts?
Dr.Vikram Damaraju: Manipal Feb 2014 – 420
NIMS Hyderabad Feb 2014 – b/w 400-500 ( I don't remember actual rank )
Jipmer 2014 Feb – somewhere around 2000
PGIMER 2014 may – 49th overall, 39th under gen.cat ( Just after I finished my internship. )
PG Blazer: What changes did you make to your preparation after your last attempt?
Dr.Vikram Damaraju: Last time I could not read AIIMS, AIPGMEE and JIPMER volumes.
I just studied subject wise books and PGI papers twice then.
Now I know that I don't have that much time for subject wise books. So I studied AIPGMEE, AIIMS and some subjects of JIPMER volume by Adrplexus.
One month for AIPGMEE 1st volume , one month for AIIMS 1st volume and one month for PGI both volumes and 10-15 days for some weak subjects in JIPMER volume by Adrplexus.
I studied subject wise in each volume (not paper wise), so that I would study one subject 3-4 times in 4 months.
Because most PGCET exams concentrate on same topics, I think it is sufficient if you complete these 4 volumes (AIIMS 1st vol, AIPGMEE 2005-2012, JIPMER and PGI) at least 2-3 times. There is no need to study subject wise books if you are an average student during your undergrad stage.
In the morning, daily for 2-3 hrs I read Ganong , Robbins, Schwartz and Sabiston for some high yielding topics. In the night after dinner I used to go through Harrison.
PG Blazer: When did you start serious preparation for this year's entrance exam?
Dr.Vikram Damaraju: From Jan 2015.
PG Blazer: What was your study strategy?
Dr.Vikram Damaraju: I always wanted to do my post graduation in a central institute. Its easy to crack PGI exam if u are hardworking, fast and if you are able to take an intelligent risk in marking extra 50-60 options. In AIIMS exam you need to be very keen on each and every concept, even if you are able to rule out 2 options for a question, you are still left with 2 more options, where if you aren't lucky enough at that moment, would go for marking a wrong option after consuming a lot of precious time. In my opinion, for cracking AIIMS, you need to have luck for that 30-40 questions which decide our fate. We can rely on our hard work but not on our luck. But in PGI Even if you don't know the remaining options you can just leave them, mark the options which you know, and mark an extra 50-60 options where you are even 51% confident – 49% doubtful. For marking that extra number of options you need to revise the same topic a number of times (which is hard work). I realized this simple funda in my internship and started preparing for PGI. I used to write a short test of 40-50 questions for 20-30 mins from the past papers of PGI daily in the morning during my internship. This increased my speed, accuracy and precision and enhanced my judgement power as to where to take risk and where not to.
About intelligent hard work : for e.g. I'm weak in subjects like spm ,micro, anatomy , fm and SARP. If I start studying spm and anatomy for the sake of mastering the subject, they would consume a lot of precious time (even months) during my internship. So I took a paper and wrote which subjects I'm weak on one side and on the other side, the subjects which are of least weightage in the exam. Then I realized that except for 3-4 subjects, remaining are of less importance. This way I gained a lot of time.
Fast and multiple : Another thing that is important to crack an exam is to have a good memory. For this, you should revise at least 3-4 times. For that many number of revisions required , one should be a fast reader. For e.g. Some people study a subject wise book for 1 whole month, trying to know each and every small concept, referring Wikipedia, Medscape, Pubmed etc. This kind of preparation takes at least 12-14 months for completing all the subjects. These people forego a forest for the sake of a tree. At the end of one year of preparation they will be standing nowhere, without a revision.
Medicine, surgery, spm, pharmacology and micro are too voluminous to complete in 3-4 weeks. Even if you complete, you will be forgetting them by the end of 6-7 months. For these subjects , you need to be in touch with them most of the time. For these difficulties, I recommend dividing your day into 3-4 tracks, with one track (6-8hrs) covering a main subject taught in the coaching institute , and the remaining 6-8 hrs into 2-3 tracks for the above subjects. In this way you can complete medicine and surgery in 2-3 months, and next 2-3 months for spm , micro , pharma and also you will be in touch with these subjects for most of time.
PG Blazer: Did you make any notes for helping with your revision? Were they useful?
Dr.Vikram Damaraju: Since I did not attend any full course coaching, I don't have any class notes. All I have are the notes that I prepared myself while studying the volumes. I wrote subject wise notes for each volume which were my Gita, Quran and Bible. I revised them once again in the last 15-20 days of exam.
PG Blazer: In your opinion, how much time does a student require for preparing for this exam?
Dr.Vikram Damaraju: 6-9 months depending on your undergrad knowledge.
PG Blazer: How many hours did you study each day?
Dr.Vikram Damaraju: 10-12 hrs daily, and for every 3rd or 4th day a movie.
12-15 hrs during last 3 weeks.
PG Blazer: Did you have a timetable for preparation? Were you able to stick to it?
Dr.Vikram Damaraju: Without a timetable you wouldn't know where you stand. I divide my timetable into a day, a week and a month. Every time I prepare a new timetable, I will be thinking that this is the perfect one. But after 3 or 4 days I realize that it is not possible , and again come up with a new one. You need not get depressed with the everchanging timetables. Some topics are difficult to understand and will take a long time for referring the internet or textbooks , while some are easy. We mature ourselves with each new one .
PG Blazer: What role did the internet play in your preparation?
Dr.Vikram Damaraju: I used to go through websites like Ministry of Health and Family Welfare, FD, RXPG, FB page of Dr. Vivek Jain, and PG Blazer for questions and quick tests during lunch time for discussion with friends.
PG Blazer: Did you ever doubt your ability to get selected in this entrance exam? If so, how did you overcome your fears?
Dr.Vikram Damaraju: Everyone will have that fear. During the prepg period, it is the moral support that we need, to withstand the hurdles during our journey and since my parents are doctors, they backed me at every stage of my preparation with full confidence (especially after resigning Paediatrics from PGI).
PG Blazer: Did you attend any classroom coaching? Was it useful? Do you think classroom coaching is essential for getting a good rank?
Dr.Vikram Damaraju: I attended Adrplexus coaching for one month in March-April 2014.
It helped me in quickly revising important concepts within a short duration.
Coaching is very essential for getting a good rank.
PG Blazer: Did you attend any test series? If so, did you find it useful?
Dr.Vikram Damaraju: I wrote PGI mock exams by Adrplexus for this session.
PGI is still an exam where you have to darken the circles. For this you have to be fast, like 40-45 questions for every 30 mins and 40-45 seconds for each question (including for shading). This kind of preparation is possible only if u write mock exams.
PG Blazer: What were the subjects you focused upon?
Dr.Vikram Damaraju: Focussing on subjects depends on the exam you take. They vary with AIIMS and PGI. For PGI I concentrated more on med, surgery, obg, patho, pharma, micro and biochem.
For AIIMS – anat, biochem(molecular biology ), fm(sections), spm (health programmes and biostatistics), ophthal (retina, choroid, glaucoma, squint and refraction).
PG Blazer: Which books did you read for theory?
Dr.Vikram Damaraju: Don't get frightened, I enjoy reading textbooks a lot more than subjectwise books. I used to study some chapters in one textbook and some in another ( because each author would have a different approach ). Most of my pocket money would go for these textbooks and these are like you name it , I have it.
Anatomy – Datta and Chaurasia , Snell's clinical anatomy , Gray's
Physiology – Ganong, Indu Khurana , A K Jain
Biochemistry – Vasudevan , Chatterjee , Harper
Pathology – Robbins, Harshmohan , Anderson for some topics
Microbiology – Baweja, Greenwood, Jawetz, Ananthnarayan
Pharmacology – Katzung, Sharma ,
Forensic Medicine – Narayana Reddy synopsis , V V Pillay
ENT – Dhingra
Ophthalmology – Parson, Khurana
SPM – Park
Medicine – Harrison , CMDT
Surgery – Das, SRB, Sabiston and Schwartz for high yielding topics
Orthopaedics – Maheswari
Paediatrics – Ghai
OBG – Datta, Shaw
PG Blazer: What was your approach to Harrison's Principles of Internal Medicine?
Dr.Vikram Damaraju: Since I have started reading Harrison in under graduation, this advice is strictly for them only.
For those who love medicine – u'll enjoy each and every line in Harrison.
first u need to know examination of each and every system. (Hutchinson or alagappan, for CNS examination- nothing like Hutchinson )
then go for symptomatology – system wise
then go for main system .
For e.g. if u want to study CNS in Harrison, first study examination part from Hutchinson (in 3-4 days), then CNS symptomatology ( in 7-10 days, prepare notes while you study Harrison, if not, revision is difficult), then go into system. Some chapters like epilepsy, peripheral neuropathy, muscular dystrophies are too voluminous for UG level. I used to study these topics initially in a subject wise book within a day or 2. So you will know where to stress and where not to. Then go to the chapter in Harrison and read the specific topic which is important for PG exam. This way it would take 1 month each for CVS and CNS, endocrinology and metabolism, and 2-3 weeks each for respiratory, renal, hematology, immunology, liver and pancreas. Tables from skin and psychiatry are a must for PGI.
During prepg period, I recommend only algorithms and tables from the above mentioned chapters. Studying these tables daily for 1 hr is enough or you can discuss 4-5 tables daily with your friend during breaks .
PG Blazer: Which books did you read for MCQ's? Which ones were the most useful?
Dr.Vikram Damaraju: Exam specific books:
AIIMS and AIPGMEE 1st volumes twice, PGI 2 volumes 3-4 times.
Subject wise books:
Anatomy – Pulse
Physiology – Pulse
Biochemistry – Pulse
Pathology – Pulse
Microbiology – Pulse
Pharmacology – Garg
Forensic Medicine – Pulse
ENT – Pulse
Ophthalmology – Pulse
SPM – Jain
Medicine – Pulse
Surgery – Pulse
Orthopaedics – Pulse
Paediatrics – Pulse
OBG – Sakshi Arora
Anaesthesia – Pulse
Radiology – Pulse
Dermatology – Pulse
Psychiatry – Pulse
PG Blazer: Is there anything specific to keep in mind while preparing for AIIMS?
Dr.Vikram Damaraju: Sorry , I can't explain… I never took AIIMS exam.. lest I should get disturbed if I fail to secure a good rank, that too just 2 days prior to the PGI exam.
For cracking AIIMS you need to go a little more depth in the known topics and need to know new topics from postgraduate textbooks and in my case, since I couldn't have a full course coaching, had to build those concepts by myself or by discussion with friends and seniors, and with limited time at my disposal , I knew I wouldn't be able to prepare confidently for the exam.
PG Blazer: How did you tackle the PGIMER entrance exam?
Dr.Vikram Damaraju: As I explained above, you have to take that extra risk if you have to be in the top 10.
PG Blazer: What was your strategy for revision on the day before the examination?
Dr.Vikram Damaraju: For PGI, most of them have to travel by train to Chandigarh and for some students from south india it would take at least 1-2 days to reach Chandigarh. I recommend, to plan your journey in such a way that you reach Chandigarh by Friday evening or night itself (not at all on Saturdays), have a good sleep and start afresh by Saturday morning.
Since I prepared subject wise notes while studying PGI volumes, I could make a fast revision of those notes in the last 2-3 days.
PG Blazer: What was your strategy for taking the exam?
Dr.Vikram Damaraju: I used to go from 1 to 250 in the mock exams. But this time the paper being lengthy, first I attempted the first 200 and then backwards from 250 to 201.
I mark the options in 2 phases.
1st phase for about 2 hrs 45 mins: In the 1st phase my strategy is to mark "at least" 1 or 2 options for most of the questions (even the difficult ones).
At the end of it I will be left with only 10-15 questions which are like:
1. Questions which have a single answer (like SPM problems , or Ph in acid base disorders) because they are time consuming and even if we get an answer, it might not be in the options mentioned
2. Questions which are entirely new to me (like Andy Gump deformity management)
In 2nd phase I will try to mark at least one option by elimination.
At the end of it I will be marking around 240-245 questions.
PG Blazer: How many questions did you attempt?
Dr.Vikram Damaraju: PGI – 243 questions , with 550-600 options in total.
PG Blazer: How many do you think you got correct?
Dr.Vikram Damaraju: PGI – around 500 options I think.
PG Blazer: Which speciality are you interested in choosing and why?
Dr.Vikram Damaraju: Robbin's and Harrison are the 2 books that changed my way of thinking. Thus I wanted to become a physician and so I am interested in medicine, radio and derma in that order.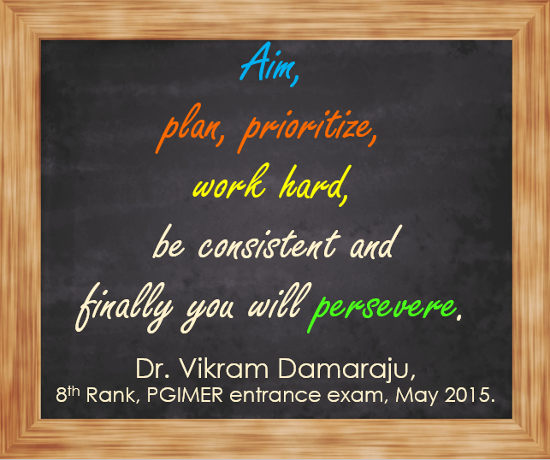 PG Blazer: What is your advice to future aspirants?
Dr.Vikram Damaraju: First – Aim high,
Then sit down and write on a paper what all are needed to achieve your goal and
Know that no one can stop you until you yourself stop.
Aim,
plan, prioritize,
work hard,
be consistent and finally you will
persevere.
PG Blazer: Please give your comments / suggestions regarding PG Blazer.
Dr.Vikram Damaraju: I used to read success stories from your site whenever I'm depressed. Especially the one from Dr. Vivek Lanka which inspired me a lot to study again after resigning from PGI Paediatrics. Thanks to PG Blazer for interviewing such persons whose failures are not only stepping stones for themselves but for students like me too.
PG Blazer: That brings us to the conclusion of the interview. Best of luck for your future endeavours!