Pseudo-isomorphic phenomenon is characteristic of?
A. Vitiligo
B. Psoriasis
C. DLE
D. Plane warts
Correct answer : D. Plane warts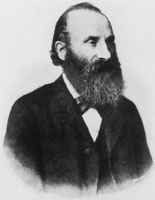 Heinrich Köbner
Pseudo-isomorphic phenomenon
To learn about pseudo-isomorphic phenomenon, we first need to know what is isomorphic phenomenon.
Isomorphic phenomenon (also known as Koebner phenomenon) is a phenomenon in which new skin lesions appear at the site of injury.
It is named after Heinrich Köbner, a German dermatologist.
Isomorphic phenomenon is seen in conditions like psoriasis,vitiligo and lichen planus.
Pseudo-isomorphic phenomenon (Pseudo-Koebner phenomenon) is characterised by the appearance of similar skin lesions at the site of injury in infective lesions like plane warts and molluscum contagiosum.
It occurs due to the spread of the infective agent (virus) to the new site.