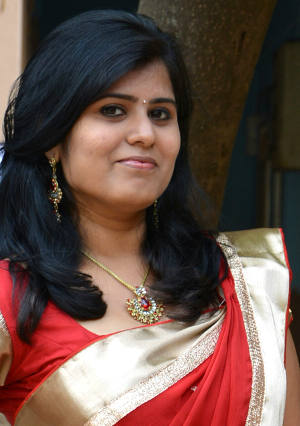 AIIMS PG Topper – Dr. Vanishri Ganakumar
PG Blazer: Congratulations on securing the top rank in the AIIMS PG entrance exam! What is the secret of your success?
Dr. Vanishri Ganakumar: Thank you. 🙂 The secret isn't really a secret, it's just Hard Work. Supportive parents and close friends helped me through the stressful phase and ensured that I could consistently put in my best.
PG Blazer: Could you tell us something about yourself?
Dr. Vanishri Ganakumar: I am from Bijapur, Karnataka. I did my schooling in Shishuniketan and Daffodils school in Bijapur itself. I was also into music and dance since school. I got Rank 160 in Karnataka CET, and got into the Bangalore Medical College and Research Institute, in 2008 batch. ( "Scions"). MBBS was mostly about staying afloat each phase, I did manage to get a gold medal in Community Medicine at my college level.
PG Blazer: Who or what influenced you to take up Medicine as a career?
Dr. Vanishri Ganakumar: My dad was in the army, so I always used to get fascinated by the doctors in the army hospitals. I also had a special interest in Biology, especially seeing how perfect a machine the human body is. Both my mom and dad were incredibly supportive of my decision, seeing that medicine was a long career, and I was going to be the first doctor in my family.
PG Blazer: What were your aggregate percentage marks for MBBS?
Dr. Vanishri Ganakumar: 71.6 percent
PG Blazer: How did you prepare during your internship period?
Dr. Vanishri Ganakumar: Internship in my college was pretty hectic. Whatever little free time I could get, I thoroughly spent in having fun. The same reflected in my ranks in the exams that I gave in internship too. It fired me up for the preparation phase where I could last the 8 months with relatively few burnouts. But I would suggest that if you are getting considerable free time in your internship, please acquaint yourself with the kind of questions that are asked, it will give you an idea of approach to the subject. It will definitely give you the edge, coz entrances are also about being smart, in addition to the knowledge part.
PG Blazer: Which were the various entrance exams you wrote in this session? What were the ranks you obtained?
Dr. Vanishri Ganakumar: AIIMS: Rank 9
PGI: Rank 96
PG Blazer: What ranks did you obtain in your previous attempts? 
Dr. Vanishri Ganakumar: AIPGMEE: 20630
KCET: 1787
JIPMER: 6527
(Gave these three during internship)
My internship ended in March 2014, and I started studying only from April 1st week
May DNB: 1011
(Did Not write May AIIMS and PGI coz of lack of preparation)
These ranks showed me where exactly i stood in the crowd. It wasn't really a surprise, coz i knew I was anything but prepared. I knew I could do way better, and I could give my best in the next few months.
PG Blazer: What changes did you make to your preparation after your last attempt? 
Dr. Vanishri Ganakumar: I definitely knew that I personally couldn't work as well as study in internship. So I waited till it ended, talked to some seniors who gave me a picture of how it is gonna be. It called for undivided attention. I had joined DBMCI Bangalore under the leadership of Dr. Thameem Saif, and our classes commenced in April 2014. From that point, I gave complete attention to subjectwise studying in accordance with the coaching class schedule. It was studying, and nothing else from then.
PG Blazer: When did you start serious preparation for this year's entrance exam?
Dr. Vanishri Ganakumar: April 2014
PG Blazer: What was your study strategy?
Dr. Vanishri Ganakumar: I tried to keep it very simple. My strategy was to go according to the class scheduled, and try my best to complete the corresponding subject in the following week. I usually would start with the subject wise guides along with my classroom notes, adding up important extra points in my notes, and looked up into textbooks only if I had some doubts. I would put a timer as soon as I started the day's studying, make sure that I put it on hold whenever I would take breaks. Having the timer minimised the involuntary time wastage, something you dont even realise while u are doing it. I managed to clock 9 to 10 hours everyday. Also, the quality of studying matters even more. When you go by concepts, you start enjoying the process, and as a good side effect, your efficiency also increases. I was almost done with first reading by September 1st week, and could manage to squeeze in one revision by October end, and revision of my weak subjects and previous AIIMS papers before November AIIMS.
PG Blazer: Did you make any notes for helping with your revision? Were they useful?
Dr. Vanishri Ganakumar: I would supplement my classroom notes with additional important info from guides, which made them a condensed source of information that I could flip through faster than any guide book.
PG Blazer: In your opinion, how much time does a student require for preparing for this exam?
Dr. Vanishri Ganakumar: 8 to 9 months of dedicated studying should suffice.
PG Blazer: How many hours did you study each day?
Dr. Vanishri Ganakumar: 9 to 10 hours on an average. Upto 12 hours on my good days.
PG Blazer: Did you have a timetable for preparation? Were you able to stick to it?
Dr. Vanishri Ganakumar: No timetable as such. Just had a rough aim to finish subjectwise studying by August end. I basically aimed at being satisfied at the end of the day. Took it one day at a time.
PG Blazer: What role did the internet play in your preparation?
Dr. Vanishri Ganakumar: Quite an important role. Facebook groups were invaluable for confusing questions. Googling was obviously the fastest way to get my hands on any kind of information. RXPG was like a newspaper, to keep in touch with dates and developments.
PG Blazer: Did you ever doubt your ability to get selected in this entrance exam? If so, how did you overcome your fears?
Dr. Vanishri Ganakumar: Every single person giving the entrance goes through these emotions at least once. And I personally had to encounter them multiple times. There were many days where I was not able to put in my 100% by the end of the day, days when I would feel that maybe I am just not good enough for it. I would try to shake them off, and read something I was interested in, that would usually get me back on track. Otherwise calls to parents or my best friends or a few episodes of my favourite sitcoms would do it.
PG Blazer: Did you attend any classroom coaching? Was it useful? Do you think classroom coaching is essential for getting a good rank?
Dr. Vanishri Ganakumar: I attended the regular course in DBMCI Bangalore. It was very useful in my case. It made my studying more organised and efficient. The emphasis in the classes was on concepts rather than fact mugging. Classroom notes were invaluable , especially in the last few days. I do think coaching gives you an edge, as it makes the vast syllabus a little easier to take in.
PG Blazer: Did you attend any test series? If so, did you find it useful?
Dr. Vanishri Ganakumar: I gave Bhatia grand tests regularly, in addition to the subject wise tests conducted in the week after the respective subject wise classes. I found it very useful, as it helped me gauge my relative position with respect to many candidates, and follow up my progress through the months. I also gave pgi mock tests conducted by adrplexus.
PG Blazer: What were the subjects you focused upon?
Dr. Vanishri Ganakumar: First and second year subjects, Medicine, short subjects
PG Blazer: Which books did you read for theory?
Dr. Vanishri Ganakumar: Anatomy – B.D.Chaurasia
Physiology – Guyton
Biochemistry – Satyanarayana
Pathology – Robbins
Microbiology – Baweja, Ananthanarayan
Pharmacology – Tripathi
Forensic Medicine – Reddy
ENT – Dhingra, Hazarika
Ophthalmology – Khurana
SPM – Park
Medicine – Matthews, selected topics from Harrisons
Surgery – SRB, selectively from Schwartz handbook
Orthopaedics – Shenoy
Paediatrics – Ghai
OBG – Dutta for Obs, Shaws for Gynae
Anaesthesia – drugs only from pharmac
Radiology – no specific book
Dermatology- no specific book
Psychiatry – Neeraj Ahuja
PG Blazer: What was your approach to Harrison's Principles of Internal Medicine?
Dr. Vanishri Ganakumar: Selective studying
PG Blazer: Which books did you read for MCQ's? Which ones were the most useful?
Dr. Vanishri Ganakumar: I read subject wise guides and class notes for all subjects. I found Garg patho and pharmac as excellent books. Arvind Arora was also very good for physio, biochem, and most of the short subjects.
Exam specific books: I didn't really read many exam specific books, I was more into subjectwise studying. Had gone through few papers from Manoj Chaudhary, the book is really good. Managed to solve 4 papers before AIIMS, from Pritesh Singh and Amit Ashish. Went through questions from Kalam when I was bored, to get the hang of Nat Board questions.
Subject wise books:
Anatomy – Across
Physiology – Arvind Arora
Biochemistry – Arvind Arora
Pathology – Garg
Microbiology – Rachna Chaurasia
Pharmacology – Garg
Forensic Medicine – Across
ENT – class notes
Ophthalmology – Arvind Arora
SPM – Arvind Arora + annexures, programmes and other current topics from Vivek Jain (a very good book)
Medicine – Mudit Khanna
Surgery – Amit Ashish
Orthopaedics – Apurv Mehra
Paediatrics – Arvind Arora
OBG – Punit Bhojani
Anaesthesia – Arvind Arora
Radiology – Sumer Sethi
Dermatology – Arvind Arora plus illustrated txtbk of dermat for case pictures
Psychiatry – Arvind Arora
PG Blazer: Is there anything specific to keep in mind while preparing for AIIMS?
Dr. Vanishri Ganakumar: I didn't do any AIIMS specific preparation during my routine preparation, I just paid special attention to questions from PGI and AIIMS while doing questions from subjectwise books. Solved 4 to 5 previous AIIMS papers before November AIIMS. Concepts and repeats are the two most important things important while tackling AIIMS. And as everyone knows, short subjects are definitely high yielding.
PG Blazer: How did you tackle the PGIMER entrance exam?
Dr. Vanishri Ganakumar: PGIMER is a totally different ball game, and it needs specific preparation. I had joined adrplexus pgi mock test series to get a feel of the pattern. It is crucial to find a fine balance between going for the kill and not ending up with too many negatives. I personally fared better in the mock tests when I reduced my negatives to up to 60 than when I took too many risks. Its better to mark only when you are more than halfway sure. Guesswork is suicide. Knowledge plus being shrewd and clear headed in those 3 hours should do it.
PG Blazer: How did you prepare for the image based questions?
Dr. Vanishri Ganakumar: I had gone through case pictures of dermatology as I was a little uncomfortable with the subject. And I would go through diagrams from Robbins when I was bored. I dont think it needs any other specific preparation
PG Blazer: What was your strategy for taking the exam?
Dr. Vanishri Ganakumar: Before starting the exam, I had made up my mind to mark at least 190 questions. Started from the beginning and marked everything I was pretty sure about and marked the others for review. The second round involved mainly the review questions, and I ended up attempting 195.
PG Blazer: How many questions did you attempt?
Dr. Vanishri Ganakumar: AIIMS – 195
PGI – No idea
PG Blazer: How many do you think you got correct?
Dr. Vanishri Ganakumar: AIIMS – Around 140 I think
PGI – No idea
PG Blazer: Which speciality are you interested in choosing and why?
Dr. Vanishri Ganakumar: I chose Internal Medicine in AIIMS during the counselling. I have always felt Medicine as diagnostically challenging and more satisfying.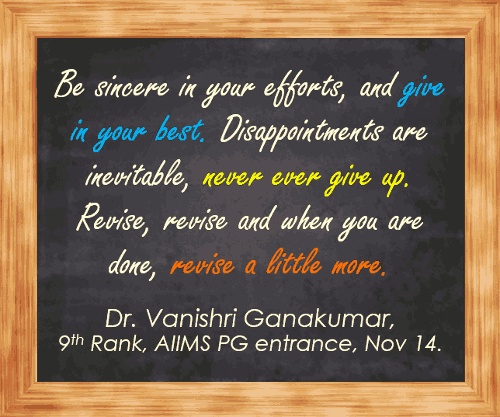 PG Blazer: What is your advice to future aspirants?
Dr. Vanishri Ganakumar: Be sincere in your efforts, and give in your best. God will give you the rest. Disappointments are inevitable, never ever give up. Revise, revise and when you are done, revise a little more. Results are directly proportional to sincerity and your efforts. And when it comes to that X factor called luck- The harder you work, the luckier you get. So the only variable under your control is the hard work part, so dont worry about anything else, just continue giving in your best. 🙂
PG Blazer: That brings us to the conclusion of the interview. Best of luck for your future endeavours!
Dr. Vanishri Ganakumar: Thankyou so much. 🙂