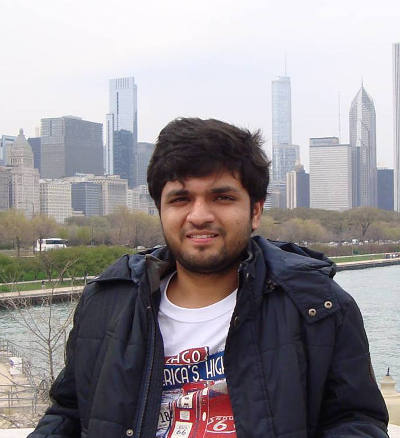 AIIMS PG entrance topper – Dr.Samagra Agarwal
PG Blazer: Congratulations on securing a top rank in the AIIMS PG entrance exam! What is the secret of your success?
Dr. Samagra Agarwal: I hate to keep repeating this ad nauseam, but there isn't any secret. In retrospect, I think I did believe at some point that the toppers are made of sterner stuff, and do things differently. It was, therefore, a bit discouraging to note that all the topper interviews I saw and read, kept stressing on similar well known points: revision, scheduled study, group discussions and so on.
I'm not sure what was different in my preparation. I just think that the most important thing that helped me was laying stress on all subjects. It's in our nature to choose favourite subjects early on, and read them in exquisite detail. While knowing a lot about few things is great, knowing few things about everything is equally important. And while being "A jack of all trades" doesn't help much in real life, it's the key to survival in PG Entrance Exams.
PG Blazer: Could you tell us something about yourself?
Dr. Samagra Agarwal: I belong to Kanpur, UP, born and raised. I did my schooling from Seth Anandram Jaipuria School, Kanpur and passed my ICSE (10th) and ISC exams (12th) in 2008 and 2010 respectively. I joined AIIMS for MBBS course in 2010 itself.
PG Blazer: Who or what influenced you to take up Medicine as a career?
Dr. Samagra Agarwal: My parents, who both happen to be doctors. I was really inclined towards a career in Mathematics or Computer Sciences initially, and I'm not sure what really made me switch, but I'm happy that I did, and it hasn't brought any regrets, at least till now.
PG Blazer: What were your aggregate percentage marks for MBBS?
Dr. Samagra Agarwal: 71.6%
PG Blazer: How did you prepare during your internship period?
Dr. Samagra Agarwal: It's hard to draw a generalization, a duration of 10 months being quite long. Initial 3 months were dedicated towards village postings, and from the PG preparation point of view, were essentially wasted. The next 6 months were utilized to get a grasp of the subject matter, and I read up everything needed at least once. The last month was dedicated towards revision. In the last 7 months, I tried attending as many Grand Test sessions as possible, just to make sure that everything works out. Internship in AIIMS isn't as hard as in rest of Delhi colleges, but it does take its toll. The aim therefore was to stuff in as many hours of fruitful study as possible and just hope that everything finds its right place.
PG Blazer: Which were the various entrance exams you wrote in this session? What were the ranks you obtained?
Dr. Samagra Agarwal: AIIMS PG Entrance Nov 2015: AIR 6th (Unreserved).
PG Blazer: What ranks did you obtain in your previous attempts? (If applicable)
Dr. Samagra Agarwal: This was my first attempt.
PG Blazer: When did you start serious preparation for this year's entrance exam?
Dr. Samagra Agarwal: I would say about 3 months before the exam date. I was following a Test and Discussion course before this, and tried catching up with it as far as possible. It sometimes worked. But more often than not, there was some backlog left for every subject. About 3 months before the D-day, the backlog had increased to such an extent that I stopped attending the T&D altogether. It wasn't that attending the T&D was somehow preventing me from studying, but no matter how early you start, it's impossible to put in serious study before a moment of revelation which says: "I screwed up!". It came to me 3 months back and only after that was I able to put up some 6-9 hours of serious study.
PG Blazer: What was your study strategy?
Dr. Samagra Agarwal: I tried avoiding MCQ books as far as possible. Not because they're inadequate in any manner, but for the simple reason that they tend to focus too much on questions rather than the underlying theory. It's good to place yourself as examiner for a while and think about your question setting strategy had you been preparing some 'tough' questions for students. Would you just get a question bank, read up all the previous questions and select some of them on your whim, or you would get a textbook at students' level, see what's expected of them, and frame questions accordingly? In practice, both strategies are followed. But while preparing for the second strategy would automatically cover a majority of questions in the first, the same can't be said vice versa.
So here's what I did: When I felt that I had ample time for a subject, I gave it a thorough read, and then solved the MCQs WITHOUT reading the explanations. When I was short on time, I just went through the MCQs, READING AS LITTLE OF EXPLANATION AS POSSIBLE, and referring back to the textbook as necessary. The emphasis on avoiding explanations is important. They unnecessarily bloat up the volume of the MCQ book, and they mostly fail to address the surrounding concepts adequately. And as a result, a whole lot of time ends up getting wasted.
PG Blazer: Did you make any notes for helping with your revision? Were they useful?
Dr. Samagra Agarwal: I had attended Dr. Bhatia Coaching Institute in my final year. I had prepared notes for all subjects, but the ones that turned out most useful in the end were those for the minor subjects like Ophtha, ENT, Anaesthesia, Derma, Psychi and so on. In addition I referred to some of the 1st and 2nd prof subject notes made during T&D in Internship.
PG Blazer: In your opinion, how much time does a student require for preparing for this exam?
Dr. Samagra Agarwal: I'd say about 5-6 months. I know people who've done it in lesser time, and many more who ended up needing a lot more, but 6 months of dedicated study must do it.
PG Blazer: How many hours did you study each day?
Dr. Samagra Agarwal: As I said earlier, I tried squeezing in as many hours as I could. It was only during the last 3 months that I could put up 6-9 hours daily. Before that everything was a bit haphazard, but I was nearly always able to manage some 3-6 hours a day.
PG Blazer: Did you have a timetable for preparation? Were you able to stick to it?
Dr. Samagra Agarwal: I tried making time-slots and setting up some short term targets in terms of days in the last 3 months. It didn't work. But it did help in the sense that it provided a rough guideline for the proportion of time each subject needs to be provided. It's very easy getting lost reading 19 subjects at once with nothing to guide whatsoever. I therefore still recommend having some sort of a timeline to follow.
PG Blazer: What role did the internet play in your preparation?
Dr. Samagra Agarwal: I did spend a lot of time on the internet, searching for answers to controversial questions. It was mostly a wasteful exercise, and I now feel that this should be restricted to a bare minimum. It's much better going through the textbooks and more often than not, the answer itself pops up.
On other occasions, I used the internet for attending a few grand tests. That usually helped, but again, an excess of that would again limit your actual reading time, which shouldn't be compromised at any cost.
PG Blazer: Did you ever doubt your ability to get selected in this entrance exam? If so, how did you overcome your fears?
Dr. Samagra Agarwal: I still pinch myself sometimes just to break this rank reverie (if I'm in one). But jokes apart, yes, there were doubts. But then, there wasn't any way out. What can you do? Let's suppose I have it in me to get selected. What should I do? STUDY. Let's suppose I do not have it in me to get through. What can I do to remedy that? STUDY. It's an unnecessary fork we all go through. And a bit of reasoning always cleared out the way for me.
PG Blazer: Did you attend any classroom coaching? Was it useful? Do you think classroom coaching is essential for getting a good rank?
Dr. Samagra Agarwal: I attended Dr. Bhatia classroom coaching. It was extremely useful in some aspects. Most notably, it helped me in making a logically arranged summary of all final and pre-final year subjects in form of notes, which I could go through whenever a textbook seemed too tedious.
And yes. I believe classroom coaching is essential. My evidence for believing so is threefold. First, Anecdotal: Nearly everyone in top 50 has been associated with one coaching institute or another. Second, we still lack a proper universal set of notes that you could go through (as in First Aid to USMLE) in limited time without any assistance and perform decently in the exams. Last, Personal experience: I've always felt that having a human in front of you who knows the subject through and through and who can answer your questions and provide you a summary in the way he has experienced the subject is way better than a pile of textbooks and internet resources on that subject combined. But then, that's just my opinion.
PG Blazer: Did you attend any test series? If so, did you find it useful?
Dr. Samagra Agarwal: I attended some of IAMS free tests and Dr. Bhatia's T&D course in my internship. It was definitely useful and while there's always room for improvement, it's hard for me to imagine a better utilization of my time in the initial few days when I wasn't really inclined to study and had no idea how to proceed. I had to give it up in the last 3 months, but that was only when the majority of important subjects were already covered.
PG Blazer: What were the subjects you focused upon?
Dr. Samagra Agarwal: Please do not focus on few subjects. It's the single folly that I think I avoided that helped me get my rank. Please remember that every subject brings with it about 8-10 questions at the minimum, and leaving it is equivalent to missing on that many questions altogether. I can only say that it's up to you to discover which subjects you're weak in, and work on them as required.
PG Blazer: Which books did you read for theory?
Dr. Samagra Agarwal: I tried sticking to the very same books I had read during MBBS
Anatomy – Gray's Student's version (partially),
A developing Human by Keith Moore, [Embryology]
Barr's The human nervous system, [Neuroanatomy]
I B Singh Histology
Physiology – Ganong's
Biochemistry – Harper's
Pathology – Robbin's
Microbiology – Parasitology by Arora and Arora
Viruses and few bacteria from Jawetz
Clinical aspects of few bacteria from Harrison's
Fungi from Harrison's
Chaurasia to cover the remaining aspects
Pharmacology – Gobind Rai Garg, Harrison's for few drugs
Forensic Medicine – Sumit Seth
ENT – Dhingra and Coaching Notes
Ophthalmology – Khurana and Coaching Notes
SPM – Park and Coaching Notes
Medicine – Harrison's
Surgery – Bailey & Love
GI Surgery from Sabiston's
Trauma and General Surgery from Washington Manual
Orthopaedics – Maheshwari and Apurv Mehra
Paediatrics – O P Ghai
OBG – JB Sharma (Obs) and Sakshi Arora (Gynae)
Anaesthesia – Coaching Notes
Radiology – Coaching Notes
Dermatology – Neena Khanna and Coaching Notes
Psychiatry – Shorter Oxford Textbook of Psychiatry and Coaching Notes
PG Blazer: What was your approach to Harrison's Principles of Internal Medicine?
Dr. Samagra Agarwal: I relied on it extensively throughout my preparation days. The good thing about Harrison's that many people tend to forget is that it isn't just a book on Medicine. It covers a whole lot of Pharmacology, Microbiology and a good proportion of Pathology, Physiology and Biochemistry. They dread on seeing the immensely large number of pages, not realizing that some of our PG Entrance book combined are thicker, not half as lucidly written, and not even close to getting as comprehensive as it gets. But then, I had read it during my final years in MBBS, and I cannot recommend the same to someone who has only 6 months at his disposal for everything.
So you need to make your own strategy. If you haven't got any intention of appearing in PG Entrance in the next 6 months or so, I'd highly recommend you to go through it, cover to cover. If you haven't got that much time, leave it ALTOGETHER. There's no use going through selected topics as far as I understand, because there isn't any need to go to so much detail for anything. You need a broad overview of most topics, for which you need a whole book of Medicine. It need not be Harrison's if you're short on time.
PG Blazer: Which books did you read for MCQ's? Which ones were the most useful?
Dr. Samagra Agarwal: Exam specific books: I did buy a whole lot of books, out of which I read Pritesh Singh's book on AIIMS. I went through it only because I needed the questions, and as I've said earlier, the explanations were mostly useless. I wouldn't recommend it as the sole book for preparation.
Subject wise books:
Anatomy – Across
Physiology, Biochemistry – I read Across partially for both, but most questions are out-dated and have limited utility nowadays. Read at your own risk!
Pathology – Gobind Rai Garg
Microbiology – Chaurasia
Pharmacology – Gobind Rai Garg
Forensic Medicine – Sumit Seth
ENT – None
Ophthalmology – Ruchi Rai
SPM – Vivek Jain (again, too many questions, mostly out-dated)
Medicine – Medicine Essence by Dr. Bhatia
Surgery – Amit Ashish
Orthopaedics – Apurv Mehra
Paediatrics – Arvind Arora
OBG – Sakshi Arora
Anaesthesia, Radio, Derma, Psychi – Across is a decent book, provided you do not waste too much time on questions asked before you learned to walk!
PG Blazer: Is there anything specific to keep in mind while preparing for AIIMS?
Dr. Samagra Agarwal: Nothing, to be very frank. But I haven't appeared in other exams, so it's hard for me to give a balanced opinion. Altogether, I believe it's very difficult to mould your preparation for a particular examination, unless it's a very peculiar one. A good idea is to try attempting previous year papers and see if you're getting 70% marks, including negatives. If yes, then you've probably got everything covered. Again, please DO NOT rely solely on questions of ANY exam for your preparation. Think like an examiner would. It worked for me, and I think it would work for anybody.
PG Blazer: How did you tackle the PGIMER entrance exam?
Dr. Samagra Agarwal: I did not appear for the PGI exam.
PG Blazer: How did you prepare for the image based questions?
Dr. Samagra Agarwal: Please do NOT study separately for images. Most images only make sense when a proper context is provided, and memorizing images is probably going to make you suffer more with no results. A better idea is to look around for images when you're going through a text, and read its caption. That obviously assumes that you're reading a standard textbook, and not class notes or some PG Entrance book. And that again, is only possible if you make reading textbooks a habit.
PG Blazer: What was your strategy for revision on the day before the examination?
Dr. Samagra Agarwal: I started preparing a list of topics I was weak in a week before, marking the topics as vital, essential or desirable. I read them as fast as possible on the last day (since the list was terribly long!). I wish I could've relaxed a bit as most people told me, but given the condition of syllabus, that wasn't really possible. There was stress, sure, but as I said earlier, there wasn't a way out. And besides, this wasn't the only exam. I had to sit for PGI exam 15 days later and NEET after 31 days. Fortunately, none of the last two were needed, but I couldn't have possibly predicted that. So I tried maintaining focus, ensured that there was enough time for sleep, and that all the vital topics were covered.
PG Blazer: What was your strategy for taking the exam?
Dr. Samagra Agarwal: Again, none. It's extremely difficult going through all the questions anyways, and on top of that sorting them into easy and hard is a bit too much to expect. I marked some of them for review so as to ensure that I could come back to them later, but for all practical purposes, those questions were lost. I did get some time in the end to go back and mark one or other option, but whether or not did they add positively to the score is hard to tell.
That brings up an even more important question: "How do I know which questions to attempt?" or a corollary: "How do I know which questions do I know?" This, so as to say, 'meta-cognition' is by far the most important thing in the examination. The examiner knows this, and plays with this very thing. Knowing what you do not know is very important during preparation, and even more important during the exam. Deciding early whether or not is a question worth wasting time on goes a long way in sparing time for other questions and helps you in avoiding rookie mistakes in those.
My aim therefore was to read all the questions, carefully, at least once and give an appropriate response if possible. It wasn't always, in which case I marked it for review and went on.
PG Blazer: How many questions did you attempt?
Dr. Samagra Agarwal: AIIMS – 189/200
PG Blazer: How many do you think you got correct?
Dr. Samagra Agarwal: AIIMS – Including negative marks, my score would've ranged anywhere from 142/200 to 156/200. There were few questions for which I wasn't totally sure I had read them correctly and few for which I couldn't be confident about the answer, even though I referred as many books and faculty as I could.
PG Blazer: Which speciality are you interested in choosing and why?
Dr. Samagra Agarwal: Medicine. Mostly because it allows you to consider the patient as a whole rather than restricting oneself to airtight branches. There is ample patient interaction, and the doctor can solve most of the patient's problems if he so wishes. And further, there's an option for super-specialization in a myriad of branches.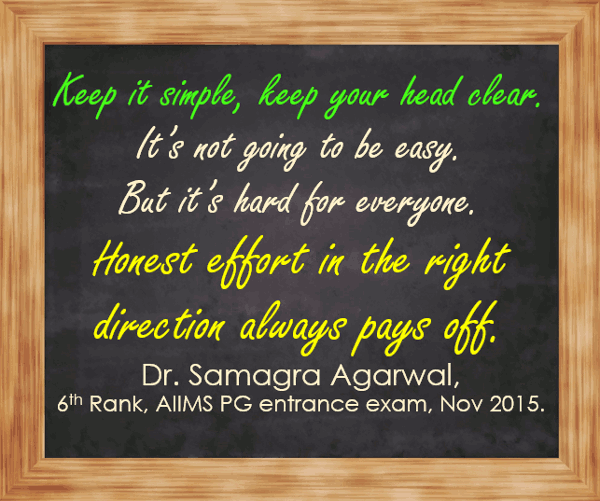 PG Blazer: What is your advice to future aspirants?
Dr. Samagra Agarwal: Get in the habit of reading. Read at least one textbook for every subject, and you're bound to get the subject in your head. Keep practising tests at the same time, and make sure you gain something from the whole exercise. Keep it simple, keep your head clear. It's not going to be easy. But it's hard for everyone, and honest effort in the right direction always pays off.
PG Blazer: Please give your comments / suggestions regarding PG Blazer.
Dr. Samagra Agarwal: It's a wonderful website. I really liked that it has moderators for every comment checking whether or not is the reply posted relevant, which is extremely essential nowadays. The site could definitely benefit more from a topic-wise organization of MCQs, in addition to subject.
PG Blazer: That brings us to the conclusion of the interview. Best of luck for your future endeavours!