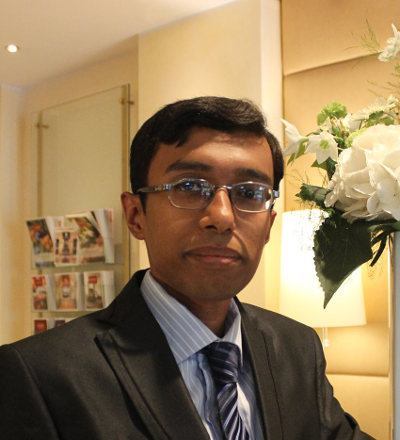 AIIMS PG entrance Topper – Dr. Shuvadeep Ganguly
PG Blazer: Congratulations on securing a top rank in the AIIMS PG entrance exam! What is the secret of your success?
Dr. Shuvadeep Ganguly: My heartiest thanks for your wishes PG Blazer. I believe in the saying "Whether you think you can or you can't, you are always right". So, the secret for me is nothing but unwavering belief in myself in face of failure and courage to follow it up with discipline. We all did the same things, read the same books but perhaps only that can create the difference. In this juncture, it would be amiss not to mention my parents for their sacrifice and unconditional support and those friends who believed in me during my low days. Without their well wishes, nothing would have been possible.
PG Blazer: Could you tell us something about yourself?
Dr. Shuvadeep Ganguly: I am from Kolkata and love my fish curries, Durga Pujas and Rosogollas. I did my schooling from prestigious Ramakrishna Mission Vidyalaya, Narendrapur. It shaped me who I am. I did my graduation from AIIMS, New Delhi itself. My notable academic achievements include being a KVPY scholar, DST Indo-German Lindau Alumnus and Telegraph Academic Excellence Awardee.
PG Blazer: Who or what influenced you to take up Medicine as a career?
Dr. Shuvadeep Ganguly: I took up Medicine due to my academic interest in human body and its many pathologies with their unanswered questions. The sacred opportunity to touch human lives in course of everyday work is an added bonus which I realized later on in course of MBBS. The more I learnt the more I fell in love with Medicine. The current adverse situation for medicos in our country frustrates me from time to time but if given another chance, I will do it all over again.
PG Blazer: What were your aggregate percentage marks for MBBS?
Dr. Shuvadeep Ganguly: 72%
PG Blazer: How did you prepare during your internship period?
Dr. Shuvadeep Ganguly: The mistake I did during my MBBS and internship days is to let the golden moments pass. I did not prepare during internship. I was enjoying my first days and first experiences as a doctor. My good friend, Dr. Vivek Kumar, now doing his Paediatrics in AIIMS, told me during my internship, "If you attend medicine postings too much, you are not going to get medicine in PG." While at the time I did not pay much heed to those words, but how true they were. It is very important to develop your clinical acumen during internship because afterall, you are going to be a doctor. But for the unfortunate situation in our country, we need to devote the final years of MBBS and internship which is better spent learning clinical skills, to prepare for PG Entrance. I loved the internship, didn't read at all but it made me lose a year. I hope no one does the same mistake.
PG Blazer: Which were the various entrance exams you wrote in this session? What were the ranks you obtained?
Dr. Shuvadeep Ganguly: AIIMS Nov 2015 – 10
PGI Nov 2015 – 42
PG Blazer: What ranks did you obtain in your previous attempts?
Dr. Shuvadeep Ganguly: AIIMS Nov 2014 – Around 1500s
PGI Nov 2014 – Around 600s
NIMHANS 2015 – 24 (Psych)
AIIMS May 2015 – 196
PGI May 2015 – 234
PG Blazer: What changes did you make to your preparation after your last attempt? 
Dr. Shuvadeep Ganguly: While I was sitting for AIIMS and PGI at the end of my internship in Nov 2014, I was so out of touch with anything related to PG entrance that I had no hope at all. At that time, I did not even buy Amit Ashish or any other guide books. I did not have any idea how many repeats were there in the exam and how easy and difficult the exam was. I was only happy that I could attempt so many questions and some of them were correct!! It was a sweetly naïve attempt but it made realize where I stand at that moment and also, how much effort I need to put into. So, I got my baseline.
From January, I joined Bhatia T&D to update my notes and get feel of recent exam questions. I gave NIMHANS exam and rank 24 in Psychiatry came as a pleasant surprise. The track of preparation was alright. While attempting AIIMS and PGI May 2015, I had almost completely updated my notes but yet to seriously read most of them. So, I could attempt almost all questions in those exams, could assess the level and the number of repeats. As far as AIIMS was concerned, I was realized the changing trend towards more applied questions. I hate memorizing and love applied ones and so I was happy.
Gone AIIMS and PGI May 2015, I went back to my home and devoted time solely for PG. I focused on short subjects as it requires regular revision to keep them afresh. While I did all the repeats since it is a crime to miss a single one of them but I did not give very high importance to them owing to changing trends. I went on reading each and every subject in topic-wise interconnected manner since this helps in retention and is more realistic. I did a complete reading but I could not finish even a single revision of most of the subjects within 3 months when AIIMS Nov 2015 approached. The paper was very atypical with lots of image-based questions and that helped me a lot. I was yet to revise all the subjects but being the type of paper it was, my imperfect attempt was okay enough. It did not work in PGI though :p . No image based questions and adequate revision was required. So, I slipped. But it was time enough to hang up the boots. I decided not to repeat anymore.
PG Blazer: When did you start serious preparation for this year's entrance exam?
Dr. Shuvadeep Ganguly: I started my serious preparation for this November session from July end. I came back to my home from AIIMS and devoted around 3 months solely to get through PG.
PG Blazer: What was your study strategy?
Dr. Shuvadeep Ganguly: My strategy for studying is very simple. I made my DAMS notes as my base. Whenever I read anything related to the topic, I updated my notes in those same pages. I tried to do MCQs first to assess the level of questions asked and the important topics, but it is bit disheartening to do MCQs without reading up the topic. I focused on my updated notes and for subjects like Pathology, Pharmacology, Microbiology, Forensic, Ophthalmology and Radiology I made the corresponding guide books as my base. I read the theory portion of the books and notes which made the vast syllabus easy enough to tackle. I did not do all the MCQs from the guide books mostly because very old MCQs are no more relevant in today's exams. I focused on subject wise test series to solve the MCQs and to gauge my preparation. Last months, I did only grand tests and no more subjectwise tests. I tried to revise all the topics at least once but could not finish. So, I focused on short subjects and important topics on others.
I carried around pictures of Developmental milestones, genetic diseases, chromosome lists, enzyme defects in my phone and try going through them every now and then while travelling, going for Durga Puja. It helped. There are no concepts in these things and you have to memorize them no matter what.
PG Blazer: Did you make any notes for helping with your revision? Were they useful?
Dr. Shuvadeep Ganguly: I believe my hand written notes formed the cornerstone of my preparation. I developed my notes while attending DAMS Foundation Course in 6th and 7th Sem. Sumer Sethi Sir suggests writing in Robbins/Harrisons to develop your own Robbins or Harrison. I did the other way round, adding on to my notes again and again while reading from Robbins/Harrisons or any other source, so that I could revise it all at the same place. I followed this for most of my subjects except Pharmacology, Pathology, Forensic, Ophthalmology, Radiology and Microbiology where I made guide books as the base.
PG Blazer: In your opinion, how much time does a student require for preparing for this exam?
Dr. Shuvadeep Ganguly: If you have followed your MBBS classes, postings and practicals diligently and if you have your basic notes ready, it takes around 3-4 months of focused preparation to crack PG. If someone is starting from scratch, it will take around 1 year for the whole process.
PG Blazer: How many hours did you study each day?
Dr. Shuvadeep Ganguly: I come across this question time and again. But this is not a question at all. I make a plan to finish specific set of topics for the day and I do my best to finish it, however early or however late it may be. Who cares about the number of hours? I am weak with numbers anyways.
PG Blazer: Did you have a timetable for preparation? Were you able to stick to it?
Dr. Shuvadeep Ganguly: We all made timetables and perhaps we all failed in them. My respect to those souls who can stick diligently to their timetable. I could not. I tried to make weekly goals, sometimes I made them sometimes I could not. But I was never very adamant on following them too much rigorously. I love my own pace. If I find a subject/topic bit time taking, I modify my plans accordingly. Above all the plan is to read and understand the subjects not to put in specific number of hours per subject. While most faculties caution against overshooting time limit for each subjects, I could not help it. So, I could not complete revision of all subjects.
PG Blazer: What role did the internet play in your preparation?
Dr. Shuvadeep Ganguly: The internet is wonderful during the initial phase of your preparation. Many forums discussing lots of MCQs. Instead of wasting time on other things in Facebook, we can spend time on these. In any case, we will be online for some time each day; so why not use the time doing something fruitful in a relaxing manner. I also read every update of Medscape regularly. Makes you aware of latest drugs and results of new trials. AIIMS WHO Neonatology Protocols available on Net are must reads as also a visit to MOHFW site to see latest public health updates. Last few days, it is better to try to take a break from net. But I was not successful in this regard, rather I used Quora as a stress buster. I avoided Facebook for last 1 month.
PG Blazer: Did you ever doubt your ability to get selected in this entrance exam? If so, how did you overcome your fears?
Dr. Shuvadeep Ganguly: We all have our doubts and fears. In late nights in your exhausted brain, they creep in and make you procrastinate. All they do is delay your preparation. But anytime I find myself doubting my abilities, I remember the quote of J K Rowling : "It is impossible to live without failing at something unless you live so cautiously that you might as well not have lived at all; in which case you fail by default." I was very failure conscious previously, being the perfectionist I am. But the world rewards imperfect attempts rather than perfect planning. So, the only solution to overcome doubts is to stop thinking and start doing. Enjoy the toil of the process. The regular motivating updates by the teachers including Dr. Sumer Sethi helped me going.
PG Blazer: Did you attend any classroom coaching? Was it useful? Do you think classroom coaching is essential for getting a good rank?
Dr. Shuvadeep Ganguly: I attended the Foundation Classroom Batch of DAMS from 6-7th sem. While I was not serious about preparation at the time, attending the classes resulted in a collection of my hand-written notes in each and every subject. I got an idea about the level of questions of PG entrance and strategy to solve questions. Those notes formed the base of my preparation in later days and the perspective I gained from the classes helped to design my study strategy.
PG Blazer: Did you attend any test series? If so, did you find it useful?
Dr. Shuvadeep Ganguly: I attended Bhatia Fast Track T&D in January-March this year mostly to update my notes and get a feel of recent PG entrance questions. My purpose for attending the test series was served but to attend T&D, my preparation suffered as I was starting my preparation at the time and doing upto 2 tests each week was too much for me. I absolutely respect those who can manage the hard work but I love a slower and more relaxed pace. Later when I started my serious preparation from July, I signed up for online test series of DAMS. The online platform gave me absolute independence to go at my own pace. The test series help you to assess your level periodically and improve upon your weaknesses. But I could not manage to do all the tests. I targeted the short subjects in the test series as regular memorization is more important for them and simply they decide your rank.
PG Blazer: What were the subjects you focused upon?
Dr. Shuvadeep Ganguly: While preparing, I focused mainly on short subjects and those where I am weak. Pathology and Pharmacology is the backbone of medicine. It always helps to be thorough in these two subjects. A great importance is given in all the exams on SPM, which tend to get ignored but is a very scoring subject. These subjects will get you selected. But, the top ranks depend on short subjects like Forensic Medicine, Ophthalmology & Biochemistry. I tried to do these first and attempted regular revision. I was weak on Surgery, Orthopaedics, ENT so I decided to give bit more time to them. But the exam is for all 19 subjects. It is imp to do justice to all of them.
PG Blazer: Which books did you read for theory?
Dr. Shuvadeep Ganguly: These are the books I read during my MBBS days. The list is mostly same for all throughout India.
Anatomy – B D Chaurasia, Langman, Barrs Neuroanatomy
Physiology – Ganong
Biochemistry – Lipincott & Harper
Pathology – Robbins
Microbiology – Ananthanarayan
Pharmacology – K D Tripathi + Katzung
Forensic Medicine – Reddy
ENT – Dhingra
Ophthalmology – Khurana
SPM – Park
Medicine – Harrisons (partially)
Surgery – None (AIIMS allows you to pass Surgery that easily 🙂 )
Orthopaedics – Maheswari
Paediatrics – Ghai
OBG – JB Sharma & Shaw
Anaesthesia – Ajay Yadav
Radiology – Sumer Sethi
Dermatology – Neena Khanna
Psychiatry – Niraj Ahuja
PG Blazer: What was your approach to Harrison's Principles of Internal Medicine?
Dr. Shuvadeep Ganguly: The Harrisons is perhaps not meant to be read cover to cover for cracking PG entrance exam. Harrisons is the ultimate synthesis of Physiology, Pathology, Pharmacology, Microbiology with the latest treatment guidelines. So, going topic wise in Harrisons help. I carry Harrisons in my mobile and try to read up a particular topic and then get it updated in my notes. I was very selective in reading Harrisons focusing on only those topics where my notes were incomplete. But it is my ultimate reference for all possible controversies.
PG Blazer: Which books did you read for MCQ's? Which ones were the most useful?
Dr. Shuvadeep Ganguly: Exam specific books:
AIIMS: Amit, Aashish
AIPGMEE(old): Mudit Khanna
PGI: Manoj Chaudhary
JIPMER: T. Arun Babu
Subject wise books:
Anatomy – ACROSS
Physiology – DAMS Notes
Biochemistry – DAMS Notes
Pathology – Gobind Rai Garg + Devesh Sir Notes
Microbiology – Rachna Chaurasia
Pharmacology – Gobind Rai Garg + DAMS Notes
Forensic Medicine – Sumit Seth
ENT – DAMS Notes
Ophthalmology – Ruchi Rai
SPM – Vivek Jain
Medicine – DAMS Notes
Surgery – DAMS Notes
Orthopaedics – Orthopaedics Dhoom Dhadaka by Dr. Apurv Mehra
Paediatrics – DAMS Notes
OBG – Sakshi Arora
Anaesthesia – DAMS Notes
Radiology – Sumer Sethi
Dermatology – DAMS Notes with Neena Khanna
Psychiatry – DAMS Notes with updates
PG Blazer: Is there anything specific to keep in mind while preparing for AIIMS?
Dr. Shuvadeep Ganguly: AIIMS exam tests not only your grasp on subject matter but also your analytical and exam taking skills. This year the paper was also atypical with lots of image based questions. Perhaps we are moving more towards USMLE pattern as far as AIIMS is concerned. If your basics are strong, AIIMS questions allow you to find the answers during the exam itself even if you don't know them. Focus subjects for AIIMS include SPM, Ophthalmology, Forensic Medicine. Basics of Pathology and Pharmacology should be strong as well. For Dermatology images of Neena Khanna are must if you are going for AIIMS.
PG Blazer: How did you tackle the PGIMER entrance exam?
Dr. Shuvadeep Ganguly: PGIMER is a paper of dedicated hard work and patience. It focuses mostly on well read topics in topics rather than out of the world topics. But to excel, you need to solve few papers diligently with time frame to develop the PGI specific mindset. PGI is a paper of the cautious; to crack it there should not be any guesswork. But if you have prepared well, the paper is not very different than others. I gave the exam just for the sake of it, but this is what I feel about the nature of the exam.
PG Blazer: How did you prepare for the image based questions?
Dr. Shuvadeep Ganguly: I did not follow any separate strategy for preparing image based questions. The MBBS days of attending Physiology, Pathology, Microbiology practicals and clinical postings were enough for me. Going through images of Dermatology always helps. Also, going through Robbins once is also essential.
PG Blazer: What was your strategy for revision on the day before the examination?
Dr. Shuvadeep Ganguly: The last night is the night to remain stress free. Throughout the day, I went through my lists of Developmental milestones, Enzyme defects, Chromosomes, IPC, CrPC, Hematology Translocations and few other topics. I am poor in memorizing raw facts so I tried to go through these on the last day.
I did not open any other books or notes nor tried to read any new topics. Having a good nights sleep, a light breakfast, reaching exam centre early, having a glucose drink just before entering are what I did for optimum performance and mitigate stress.
PG Blazer: What was your strategy for taking the exam?
Dr. Shuvadeep Ganguly: AIIMS Exam strategy is very straightforward. Time is not an issue. So, without stressing, I went through all the questions marking out all the easy ones and leaving rest for review. I completed first scan within an hour and a half.
I used another hour to attempt the questions marked for review. In AIIMS, it pays to mark as long as you have ruled out 2 options with enough conviction. I followed this strategy and tried to attempt as much as possible. Last minutes, I did scan of the whole paper again for any silly mistakes and last moment corrections. Not too cautious but no wild guess also.
PG Blazer: How many questions did you attempt?
Dr. Shuvadeep Ganguly: AIIMS – 196.
PGI – Around 580 options.
PG Blazer: How many do you think you got correct?
Dr. Shuvadeep Ganguly: AIIMS – Around 140-145.
PGI – No idea.
PG Blazer: Which speciality are you interested in choosing and why?
Dr. Shuvadeep Ganguly: I am not yet decided on a speciality. But I would love to be a clinician.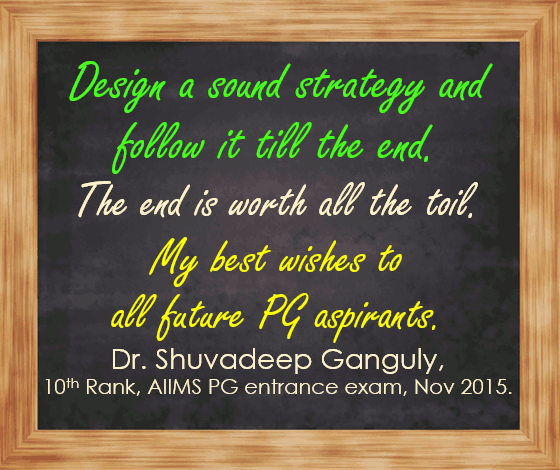 PG Blazer: What is your advice to future aspirants?
Dr. Shuvadeep Ganguly: Cracking PG is not easy but also not as hard as it seems. You need to have dream in your eyes, belief in yourself and courage to follow it through.
You need to tackle 2 things: Bad strategy and Procrastination. Design a sound strategy and follow it till the end. The end is worth all the toil.
My best wishes to all future PG aspirants.
PG Blazer: Please give your comments / suggestions regarding PG Blazer.
Dr. Shuvadeep Ganguly: PG Blazer was a good time pass for me. I used to scroll through the site and enjoyed its contents especially the MCQ collections. I absolutely love medicos involved in online platforms and developing creative contents. So, I would love to see PG Blazer putting up important articles which might go on helping future aspirants. You guys are doing one hell of a job. My best wishes.
PG Blazer: That brings us to the conclusion of the interview. Best of luck for your future endeavours!
Dr. Shuvadeep Ganguly: Thank you.