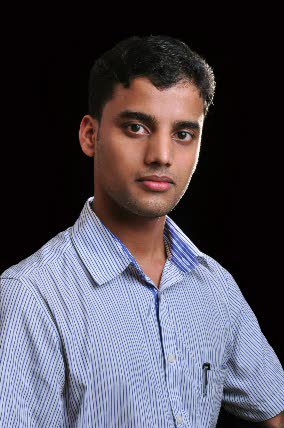 Congratulations on securing a top rank in AIIMS and PGIMER – PG entrance November 2011 ! What is the secret of your success?
secret of my success… work hard n work focused.. read whats needed..
i'm from a middle class family in calicut, kerala.. did ma schooling in jnv calicut.. graduated from govt med college calicut.. i was an average student.. never wid in first 5 in my batch.. iwas in d team that won all kerala anatomy quiz.. and has represented college in iap quiz.. state level..
d exams i wrote…
upsc jan10.. rank 94
aiims nov 10.. not in list
aipg 2011.. rank 4404
kerala 2011.. rank 326
aiims may11.. rank 333
aiims nov11.. rank 29
pgi nov11.. rank 21
joined for md medicine at pgi.. it was not even in my dreams to get this..
i didnt make much changes to my study strategy after these exams..
strategy..i read only mcq books.. i followed aaa n mk.. went thru d referances given by them if i needed clarification.. read only d first volumes.. ie from 2005.. but i read it thrice.. with heart..
it needs 18 months preparation.. point is that u've to be in touch wid aaa n mk during d first 6 months..and intense reading next 12 months..
during intrnship i targetted 10-15 qns a day.. but i was never able to.. i was able to cover only 4 or 5 qn papers during that time.. i enjoyed my internship well.. i started preparing seriously after aiims nov 10..jineesh v ,my batch mate got d first rank in that.. it boosted us a lot.. i selected a remote tribal village to do my rural service.. i was free by 2pm everyday.. i read 7-8 hrs a day during my service.. i took leav from mid august.. started fullday preps.. read 14-15 hrs a day since then.. for 3 months..
as all others i too prepared a time table.. but never able to follow.. i divided my day in to two.. a 2 hr n a 5hr.. in 5hr part i read aaa n mk.. in two hr part i read my class notes n selected subjects from across n sparsh guptha..
internet helped me a lot..used it wisely…only for academics… i opened an fb account only after i got in to d ranklist..
as everyother i had breakdowns.. my roommates sreesanth n dhanin helped a lot.. i kept anoop mk as my target.. to keep in pace wid him was hard.. n i was never able to.. all of us got in to list of pgi n aiims.. all my frens helped me a lot.. my parents were always wid me..
i went for sunday coaching at ma college cme.. that was d only off day we had while doing rural service..it helped me a lot.. it helped me to make a timetable.. to revise d qns.. to clarify doubts.. to keep in touch wid my frens..
i took grand test series by bhatia.. it helped me a lot.. to assess my self.. to form my exam strategy.. to tackle exam tension.. and for a revision… i targeted 55-60% in those series n i got it.. that boosted my confidence..
whole my preparation was based on aaa n mk.. i gave some time extra for biochem, anaesthesia,psychiatry,forensic n pharmac.. i read across for these subjects n sparsh guptha for pharmac..
i hadnt much time to read theory.. read topics that i needed clarification.. i referred
anatomy- chourasya
biochem-vasudevan
physio-ganong
patho-robbins(son)
micro-panikkar
pharmac-tdt
then harrison
obg sheela
sx bailey… i focussed on mcqs.. and got very little time to read theory..
for mcq..
aaa n mk..
psych dermat forensic biochem.. across
pharmac sparsh guptha
rachna chourasya for micro
then my class notes..
i was planning to read aa for sx… and notes in patho.. but i didnt get time..
for pgi i read manoj choudhary.. iread d explanations.. went thru d charts.. not d answers… i didnt get much time to read it as i focussed mainly on aipg.. i think it'll be d case wid all..
in d last two wks i revised aaa n mk n my special notes.. in d last two days i jst read only d answers no xplanations..i used to mark all d qns that i go wrong.. last day i read those qns n answers which i was frequently going wrong….
in exam..i used to have three readings.. in first i mark those rpt qns n those qns i'm so sure.. i leav all lengthy qns wid out even reading.. in second i mark those doubtful qns n lengthy ones.. in third those qns in which i can rule out atleast two options… i avoid marking qns dat i cannot rule out atleast two options..
i attempted 190 in aiims.. n around 230 in pgi…
dont know how many went wrong..
my suggestions.. read aa n mk even if pattern changes.. they r our bible..
preparing for may pgi is more rewarding than for aiims may.. especially for those who have resrvation.. read focussed.. keep targets.. reading aaa n mk at first is very tiring… but keep reading.. refer wen needed.. its not who have big brains but who work hard gets d ranks.. take one grand test series.. manage to read even during internship.. eventhough its difficult..
all d best.. my wishes n prayers…
the will to win is important ;but the will to prepare is vital…
pg blazer rocks.. keep going.. help to identify wat to read.. help to enhance confidence..