Ipsilateral immobility of soft palate is seen in?
A. Lermoyez syndrome
B. Ortner's syndrome
C. Costen's syndrome
D. Trotter's syndrome
Correct answer : D. Trotter's syndrome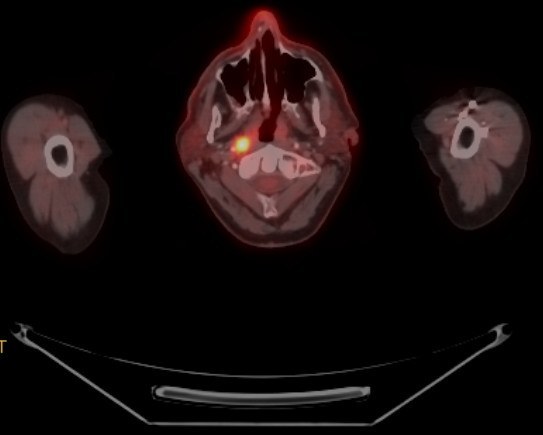 PET CT scan of a case of nasopharyngeal carcinoma. FDG positive primary site is visualised.
Trotter's syndrome is seen in nasopharyngeal carcinoma when it spreads laterally and involves the sinus of Morgagni.
There is conductive hearing loss, ipsilateral immobility of soft palate and neuralgic pain.
Ortner's syndrome is characterised by paralysis of recurrent laryngeal nerve and cardiomegaly.
Costen's syndrome occurs due to defective bite resulting in temporomandibular joint abnormality.
Lermoyez syndrome is a form of Meniere's disease.
Ref: Diseases of Ear, Nose and Throat by P.L. Dhingra, 5th edition, p458-462.
Image credits: Gulec SA, Hoenie E, Hostetter R, Schwartzentruber D. PET probe-guided surgery: applications and clinical protocol. World J Surg Oncol. 5, 65. 2007. Licensed under the Creative Commons Attribution 2.0 Generic license. http://www.wjso.com/content/5/1/65