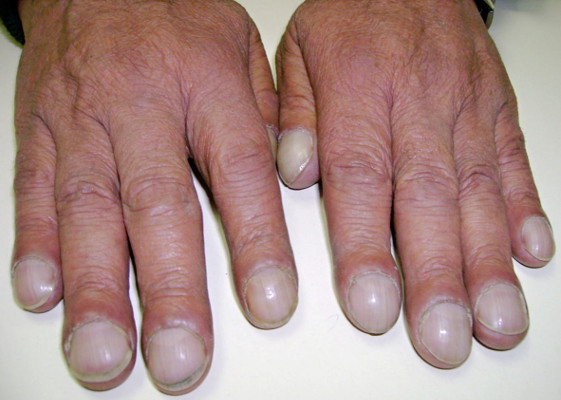 Clubbing
Regression of clubbing can occur after corrective surgery for cyanotic congenital heart disease as they become acyanotic after surgery.
Regression of clubbing after treatment of lung cancer is well documented [1]. Clubbing in infective endocarditis also regresses after successful treatment. Though regression of clubbing is a gradual process, faster than expected regression of clubbing within 3 days after mitral and aortic valve replacement for infective endocarditis has been reported [2].
Regression of clubbing after lung transplantation for cystic fibrosis usually occurred within a span of 3 months [3]. To quantify the regression of clubbing, they measured the distal phalangeal depth (DPD) and interphalangeal depth (IPD) of index finger using skinfold caliper. The DPD/IPD was calculated and the ratio was found to be greater than 1 in all their 3 patients prior to lung transplantation. The ratio decreased to less than 1 in two of their patients within 3 months and within 9 months in the third patient.
References:
1. Ciment AJ, Ciment L. Regression of Clubbing after Treatment of Lung Cancer. N Engl J Med. 2016 Sep 22;375(12):1171.
2. Ozdemir B, Sentürk T, Kaderli AA, Keçebaş M, Güllülü S, Baran I, Ozdabakoğlu O, Aydinlar A. Postoperative regression of clubbing at an unexpected rate in a patient with aortic and mitral valve replacement due to infective endocarditis. Ir J Med Sci. 2009 Sep;178(3):351-3.
3. Augarten A, Goldman R, Laufer J, Szeinberg A, Efrati O, Barak A, Miller MS, Yahav Y. Reversal of digital clubbing after lung transplantation in cystic fibrosis patients: a clue to the pathogenesis of clubbing. Pediatr Pulmonol. 2002 Nov;34(5):378-80.
Image credits: Desherinka. Creative Commons Attribution-Share Alike 4.0 International, 3.0 Unported, 2.5 Generic, 2.0 Generic and 1.0 Generic license. https://en.wikipedia.org/wiki/File:Acopaquia.jpg