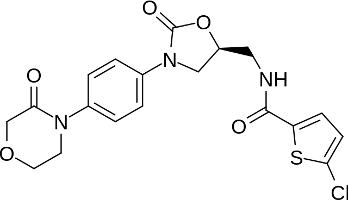 Chemical structure of Rivaroxaban
A. Factor Xa inhibitor
Explanation:
It is used in the prevention of deep vein thrombosis after hip and knee replacement surgery.
Rivaroxaban is also used for treatment of deep vein thrombosis in higher doses.
Stroke prevention in non-valvular atrial fibrillation is another role for the drug.
It is better avoided in those with significant renal dysfunction, though it can be used at lower doses in certain condition in those with milder degrees of renal dysfunction.
Image credits: Fuse809. Licensed under the Creative Commons Attribution-Share Alike 4.0 International license. https://en.wikipedia.org/wiki/File:Rivaroxaban2DCSD.svg