The gene NPHS1 encodes?
A. Podocin
B. TRPC6
C. Alpha actinin 4
D. Nephrin
Correct answer : D. Nephrin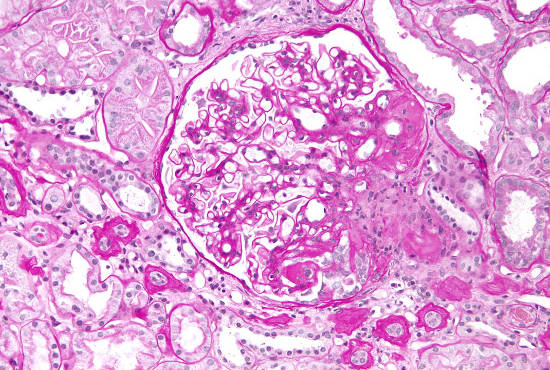 Focal segmental glomerulosclerosis (hilar variant) – PAS stain
NPHS1 was the first gene to be identified as the cause for focal segmental glomerulosclerosis.
This gene encodes the protein Nephrin, which is an important component of the slit diaphragm.
NPHS2 gene encodes the protein Podocin.
Mutations in the gene encoding Alpha actinin 4 is responsible for some cases of autosomal dominant focal segmental glomerulosclerosis.
Mutations in the gene encoding TRPC6 (Transient Receptor Potential Calcium channel 6) is seen in some cases of adult onset FSGS.
Ref: Robbins & Cotran, Pathologic basis of disease, South Asia edition, Vol 2, p918.
Image credits: Nephron. Licensed under the Creative Commons Attribution-Share Alike 3.0 Unported license. https://en.wikipedia.org/wiki/File:Focal_segmental_glomerulosclerosis_-_high_mag.jpg