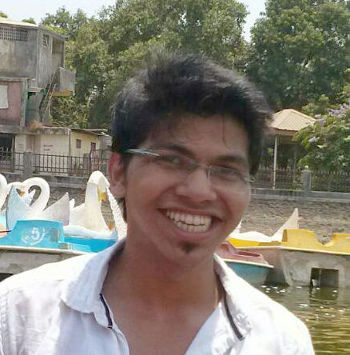 Dr. Shehbaz Ansari
PG Blazer: Congratulations on securing a top rank in the AIIMS PG entrance exam! What is the secret of your success?
Dr. Shehbaz Ansari: Thank you…!!! I believe there is no secret to success. It's just hard work and consistency. I always believed there are 3 things to clear any exam : talent, hard work and smart work; hard work being most important and talent least.
PG Blazer: Could you tell us something about yourself?
Dr. Shehbaz Ansari: I was born and brought up in Mumbai. I did my schooling from St. Mary's High School, joined Bhavan's College as Junior college; did my MBBS from Seth G.S.Medical College, Mumbai. I'm the first doctor on my maternal and paternal side.This had many advantages and disadvantages. I was never pressurized to score good marks, got a lot of respect in the family. On the contrary many of my relatives used to consult me for advice. This made me realize that if I become a good doctor, it will not only help me, but also many people around me. That was one of the motivating factor for me during my UGs.
PG Blazer: Who or what influenced you to take up Medicine as a career?
Dr. Shehbaz Ansari: Everyone in my family including me wanted me to become a doctor ever since I was a kid. Although I did develop a little interest in astronomy during junior college, I didn't know how to become an astronaut, so i left the thought there and joined MBBS. Now i am happy how the things have gone.
PG Blazer: What were your aggregate percentage marks for MBBS?
Dr. Shehbaz Ansari: 74.29%
PG Blazer: How did you prepare during your internship period?
Dr. Shehbaz Ansari: Internship in my College is a little heavy. But I was very fortunate to have good residents with me who used to leave me early and sometimes help me with my duties. Sometimes the postings were heavy, sometimes no duties at all. I avoided thinking too much about the time I lost during my duties and tried to utilize each and every second I have with me. I used to study in wards, OPDs etc. where ever I can. When you want the result you have to give your best. I used to read the synopsis (theory) in the library and solve MCQs during my duties as reading synopsis requires you to link one line to the other while MCQs are discrete. Solving an MCQ doesn't require concepts from previous MCQ and since you cannot constantly focus during your duties, I thought this is a better option.
PG Blazer: Which were the various entrance exams you wrote in this session? What were the ranks you obtained?
Dr. Shehbaz Ansari: I got the following ranks
AIIMS May 2016 – rank 9
JIPMER May 2016 – rank 14
NIMHANS 2016 – rank 20
AIPGMEE 2016 – rank 33
Maharashtra State PG – rank 9
PG Blazer: What ranks did you obtain in your previous attempts? (If applicable)
Dr. Shehbaz Ansari: This was my first attempt.
PG Blazer: When did you start serious preparation for this year's entrance exam?
Dr. Shehbaz Ansari: 15th Jan 2015 (1 month before start of my internship).
PG Blazer: What was your study strategy?
Dr. Shehbaz Ansari: I had joined DAMS TnD during my internship. I used to attend the class on Sunday and then tried to finish that particular subject-wise guide book in the following week followed by revising myself. Made TnD notes and writing down any extra points I used to get on those notes into my guidebooks. I used to have a glimpse of textbook (JUST A GLIMPSE) in between in case I had any doubt. Reading after attending class had many advantage like the topic has been freshly explained in the class and I was able to understand the guidebooks better. Secondly I was told about the mistakes and controversies solved beforehand so that I don't have to actively search for them.
PG Blazer: Did you make any notes for helping with your revision? Were they useful?
Dr. Shehbaz Ansari: I made notes only for the last two days. I used to underline on my books only and read the underlined part only for my 1st revision and highlight the important stuff among that and read only the highlighted part in my subsequent revisions.
PG Blazer: How many hours did you study each day?
Dr. Shehbaz Ansari: I never used to count the hours. I tried to utilize whatever time I have.
PG Blazer: Did you have a timetable for preparation? Were you able to stick to it?
Dr. Shehbaz Ansari: As i said, I started my preparation from 15th Jan. Completed my first reading before 15th august. I just tried to read and understand the topic. Never tried to memorize anything during my first read. I used to give DAMS Grand tests every month starting from April. Advantage of giving grand tests over subject-wise tests is that it tests your short term as well as long term memory while subject-wise test tests only short term memory. By the time I have completed my first reading, I had given 4-5 grand tests and I was able to recognize what things I remember in long term and what things I forget of each subject. Also as DAMS grand tests simulate current exam pattern quite well, I was also able to judge what things are important and what not. So I was able to study smartly for my first revision. Memorising and making mnemonics are very effective tools to remember LIMITED parts VERY effectively. I tried to used them wisely from my first revision onward on topics which were important and I'm NOT ABLE to remember them (both things should satisfy). I completed my first revision in the next 2.5 months i.e. by October end. I made notes for my last 2 days during my first revision. The notes ensured proportionality among subject again including only those points which were important and difficult for me and was realistic so that I was able to complete them in 2 days. Second revision was of 25 days (Nov 1-Nov 25). I first made a time table for 25 individual days, with conceptual subjects in the start and factual subjects towards the end. I avoid writing any date on that timetable, just focused on completing on each days goal and striking it out when its done unaware whether the exam was in a week or two. That helped me prevent building about the exam oriented anxiety. In the next 6 days (Nov 26 – Dec 1), I just flipped through the pages of all 19 subjects starting with the subjects I finished first in my second revision. I tried more to recollect what's there in that particular page rather than to read it, trying to bring all my memories to surface. In the next 2 days (Dec 2 – Dec 3, 9 pm), I read only my self made notes. You need to have a defined, structured notes in your last hour. You cannot go on wondering what to read and what not to read on the last day. It decreases your performance and more importantly it builds up the anxiety day before exam.
All said and done, I want to press that this wasn't the time table I made on Jan 15. I had planned many different things, there were ups and downs. We should learn to modify our time table according to how much time is left and how much we have to cover. Your time table should be realistic. It should be just outside your comfort zone, not too much that you feel like giving up even at start, not too less to make you lazy.
PG Blazer: Did you ever doubt your ability to get selected in this entrance exam? If so, how did you overcome your fears?
Dr. Shehbaz Ansari: I tried to avoid thinking too much about the results, focus on present. Get the task done and leave the rest to God.
PG Blazer: Did you attend any classroom coaching? Was it useful? Do you think classroom coaching is essential for getting a good rank?
Dr. Shehbaz Ansari: I attended DAMS foundation course during my pre final year and TnD during my internship. I feel coaching classes are important because they keep on pushing you, keep you on track and keep you updated. I was able to complete each subject in a week because I was pressurized by the TnD timetable to do so.
PG Blazer: Did you attend any test series? If so, did you find it useful?
Dr. Shehbaz Ansari: I attended DAMS test series. It was very useful as explained above.
PG Blazer: What were the subjects you focused upon?
Dr. Shehbaz Ansari: There weren't any specific subjects on which I focused. Tried to keep proportionality among the subjects.
PG Blazer: Which books did you read for theory?
Dr. Shehbaz Ansari:  Anatomy – Last anatomy
Physiology – Guyton and Ganong
Biochemistry – Satyanarayan and Harper
Pathology –Robbins
Microbiology – Ananthnarayan
Pharmacology – Tripathi(mainly) and Katzung (general, ANS, CVS)
Forensic Medicine – Singal
ENT – Dhingra
Ophthalmology – Khuarana(mainly) and Parson (optics,retina, optic nerve and squint)
SPM – Park
Medicine – Harrison
Surgery –Bailey
Orthopaedics – Maheshwari
Paediatrics – Ghai
OBG –Dutta (both obs and gyn)
Anaesthesia – only guide book
Radiology – only guide book
Dermatology – only guide book
Psychiatry – only guide book
PG Blazer: What was your approach to Harrison's Principles of Internal Medicine?
Dr. Shehbaz Ansari: I read mainly part 2 (18th edition) and very selected topics from part one (headaches, electrolyte and acid base imbalance, infective endocarditis and anaemia). I first saw what topics are being asked in entrance exams from guide books and read only those. I made sure whatever I read, I revised at least once.
PG Blazer: Which books did you read for MCQ's? Which ones were the most useful?
Dr. Shehbaz Ansari: Exam specific books: AIIMS vol may 2010 onward (author doesn't matter much).
Subject wise books:
Anatomy – Arora and Acland anatomy videos
Physiology – Arora
Biochemistry – Arora
Pathology – Arora
Microbiology – Arora
Pharmacology – Garg
Forensic Medicine – Sumit Seth
ENT – Sakshi Arora
Ophthalmology – Ruchi Rai
SPM – Arora (Vivek Jain is better)
Medicine – Amit Ashish
Surgery – Amit aShish
Orthopaedics – Arora
Paediatrics – Arora
OBG – Sakshi Arora
Anaesthesia – Arora
Radiology – Sumer Sethi
Dermatology – Arora
Psychiatry – Arora
PG Blazer: Is there anything specific to keep in mind while preparing for AIIMS?
Dr. Shehbaz Ansari: AIIMS exam pattern have changed drastically since the last two exams. They are testing more of your studies during your prof exams rather than your last year preparation. Image based questions have increased. Specially for AIIMS, I did image based anatomy using Acland video, all images from Robbins, micro slides for my prof exam, PSM slides from my prof exam, ECG diagnosis, OBG instruments, skin DAMS dvt slides.
PG Blazer: What was your strategy for taking the exam?
Dr. Shehbaz Ansari: It's very important not to think too much about the results during the exam. Focus on each question individually irrespective of your performance on the previous question. Developing this attitude needs practice and that's were importance of giving multiple GTs comes into play.
PG Blazer: How many questions did you attempt?
Dr. Shehbaz Ansari: AIPGMEE – 300
AIIMS – 193
PGI – Didn't gave the exam.
JIPMER – 250
PG Blazer: Which speciality are you interested in choosing and why?
Dr. Shehbaz Ansari: I have joined MD Radiodiagnosis in Seth GS Medical College. I feel radiology is the fastest growing and most challenging branch currently. I was very confused between medicine and radiology but finally opted radiology, thanks to some seniors advice.
PG Blazer: What is your advice to future aspirants?
Dr. Shehbaz Ansari: Be determined..
Be confident..
Keep the hardwork going no matter how impossible it seems. In my last few days before the exam, I was almost convinced that I have to repeat one more year as I was not able to recollect anything but I decided no matter what happens, I'll give my best. Today I'm glad I didn't give up.
PG Blazer: Please give your comments / suggestions regarding PG Blazer.
Dr. Shehbaz Ansari: As a PG aspirant, I always needed guidance regarding what to study, what not to study, how to plan; and what could be a better place than a site where you can get guidance, inspiration from so many toppers all at one place.
PG Blazer: That brings us to the conclusion of the interview. Best of luck for your future endeavours!